Living with Pattern: Hamilton Gray Studio
I met Kate, principal of Hamilton Gray Studio, in college where we both attended Rhode Island School of Design. She grew up in a small coastal New England town, just like me, but near Newport, RI. She studied furniture design and I still remember this beautiful wooden stool she hand carved. I'm lucky to be her friend and we've worked together on a few fun projects including our NYC showroom and a bedroom for the Real Simple Idea House. Here's a peek inside her Brooklyn apartment, which was right upstairs from me before we moved to Charleston, SC. It's full of clever ideas, quirks, charm, and of course pattern.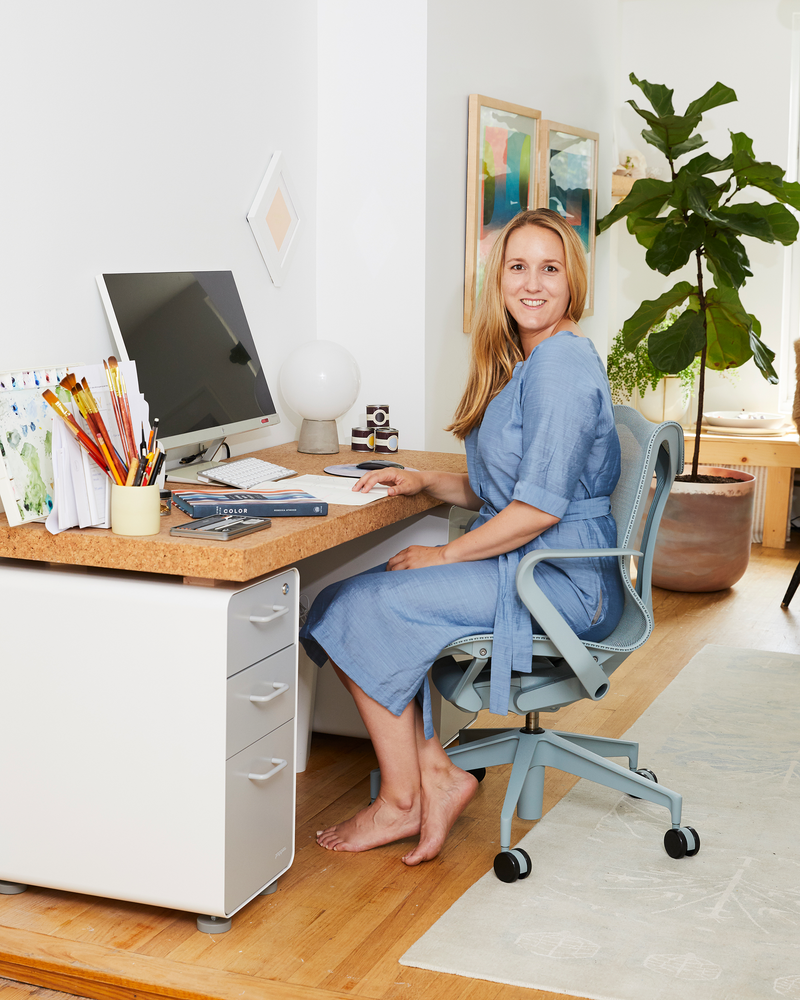 RA: Tell us about yourself – where did you grow
up and what do you do now?
KHG: I grew up in Rhode Island, near Newport. Despite having some reservations about spending another 4 years in the Littlest State, when I got into RISD I couldn't pass up the opportunity! After college, I was eager to join the NYC design world and have been here since, eventually finding my way to Interiors. I started my company,
Hamilton Gray Studio last Fall after 8 years working with a Boutique residential firm in Manhattan.
What does 'home' mean to you?
Home is my little habitat within this big city, where I keep all my little treasures, feel comfortable being myself, and can welcome friends and family.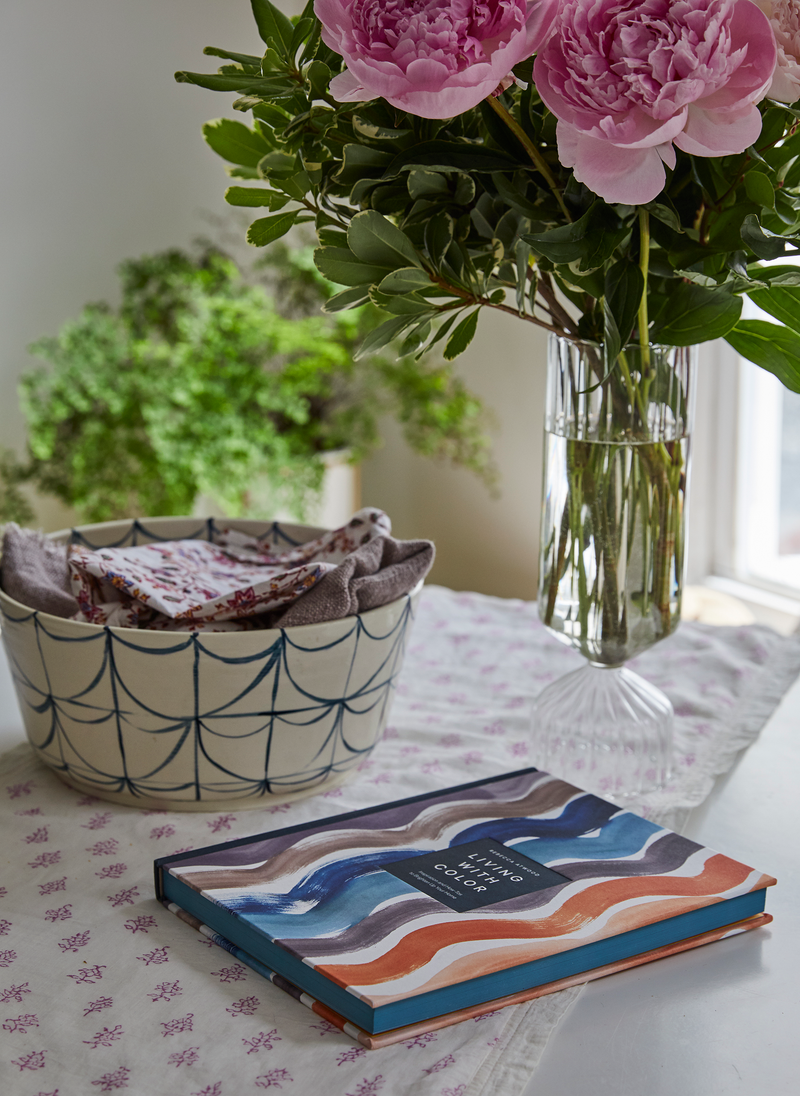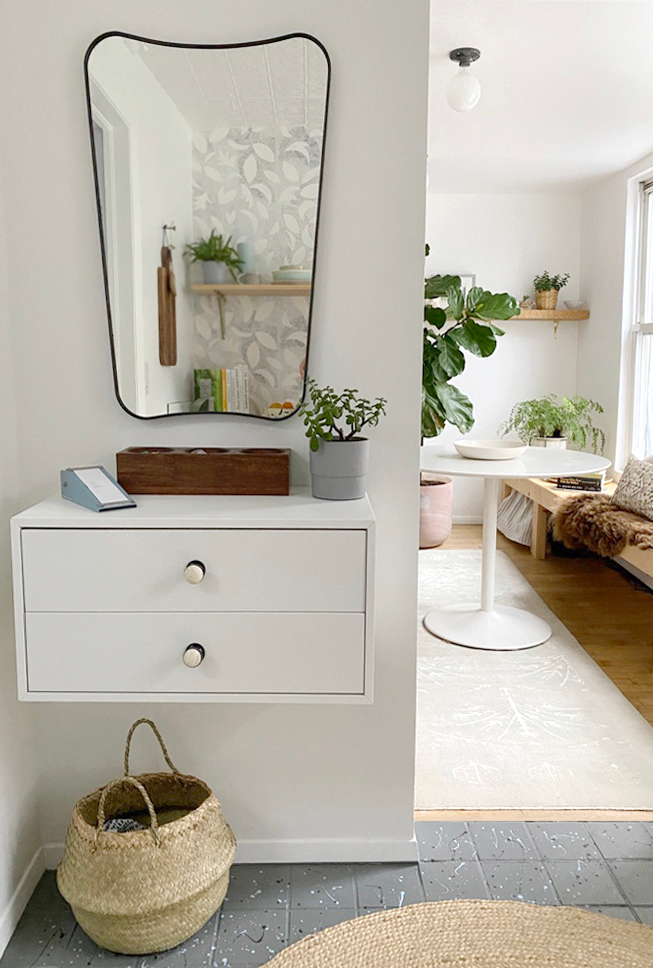 What is your favorite thing about your home?
Easily, it's the light. A benefit of living upstairs in a small house is that I get a lot of light that filters through from front to back. If you've lived in some darker NY apartments, as I have, finding a space with good light is not to be taken for granted.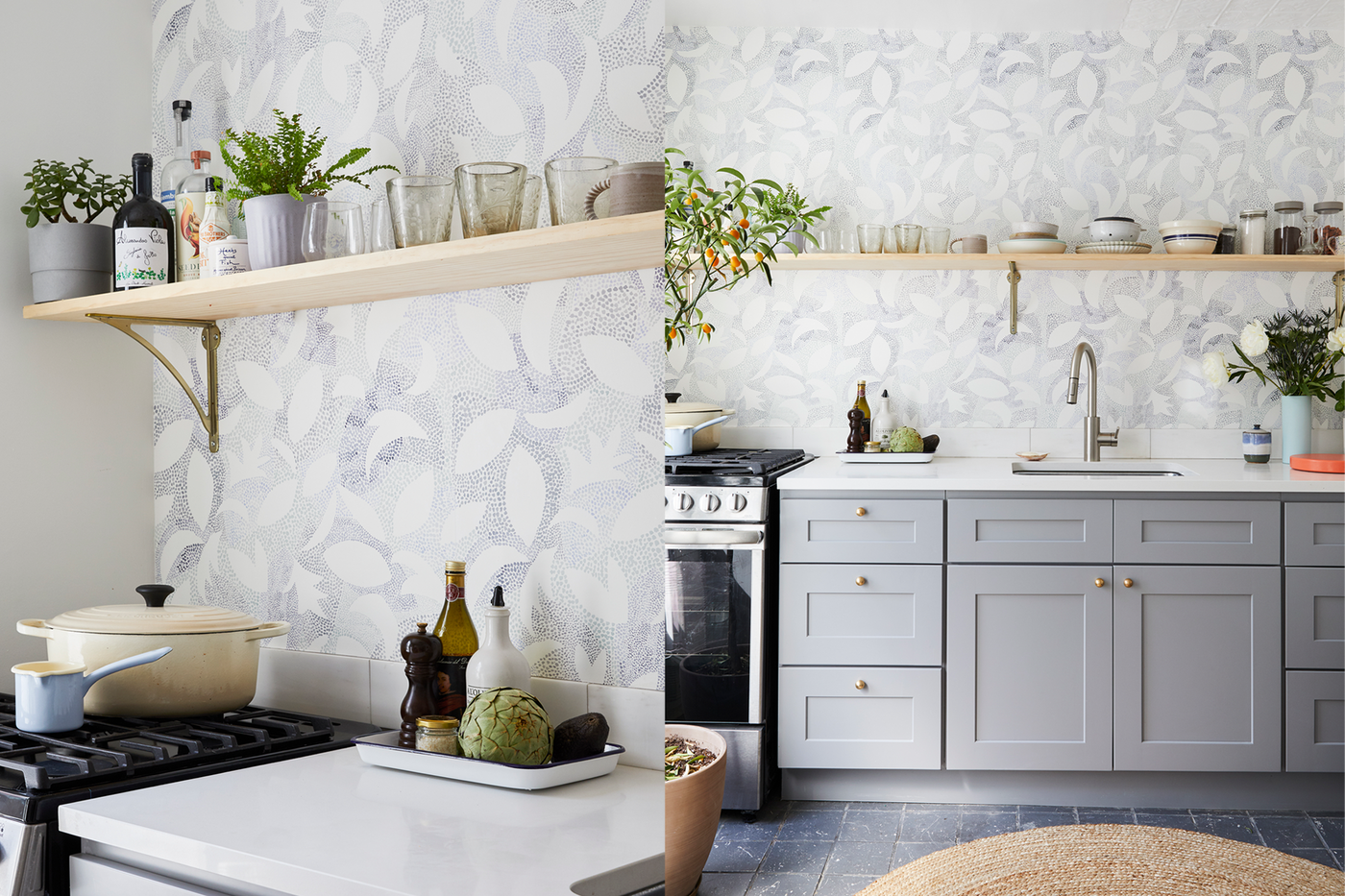 What was your process for decorating your new apartment? How was it different than when you work with clients?

This space was a fresh start for me in a lot of ways and it's my first solo apartment, so I did not shy away from having it reflect my femininity! The apartment is less than 500 sq. ft., with one closet, and has to function as my office as well! The first challenge was creating organized storage, without cluttering the space with furniture, and instead focusing on adding decorative elements like wallpaper that don't take up space. Something about this apartment makes me feel like I'm not in big a city…and with that in mind I wanted to let it be a bit eclectic, casual, and comfortable. Basically, I want to feel like I'm in a little modern beach cottage, hidden in Brooklyn.
It's so different decorating your own space, than working with clients. It's harder to make decisions about your own home, and through work I've developed a taste in furnishings that are beyond my personal budget!
I'd rather live with less than buy a lot of poorly made new pieces. I do have some Ikea, but only things that I felt were well-made, or that I could customize to make more interesting. I have a Pine dresser that I painted, and added custom knobs to, and used a simple drawer unit with Ochre horn handles (a sample sale find), and Super Front Ball feet, as a nightstand.  
I opted for some other simple, creative solutions, like a Pine built-in bench with under my windows. It hides my printer and some storage bins below and provides seating without
a lot of dining chairs.
I had fun with the process, adding some elements that are effective but can also be easily changed. I hand painted stars on my Bathroom walls with a Farrow and Ball sample (because why not?!), and I pinned up a large charcoal landscape sketch, so I could have a big art piece over my sofa.
I realize I am happiest living in space that feels "undecorated" and real. I have small objects, art, and furniture pieces that I have collected over the years, which I would never select together for a client, but they work together here, because they are mine and tell my story.
How did you choose the colors for your apartment?
I started with a bright white backdrop, painting the whole space with Chantilly Lace. I didn't want to be confined to one color direction, so I have added a range of soft colors throughout: pinks, greens, and blues. My plants, my two Charlotte Hallberg paintings, and some fun smaller decorative elements add pops of brighter color.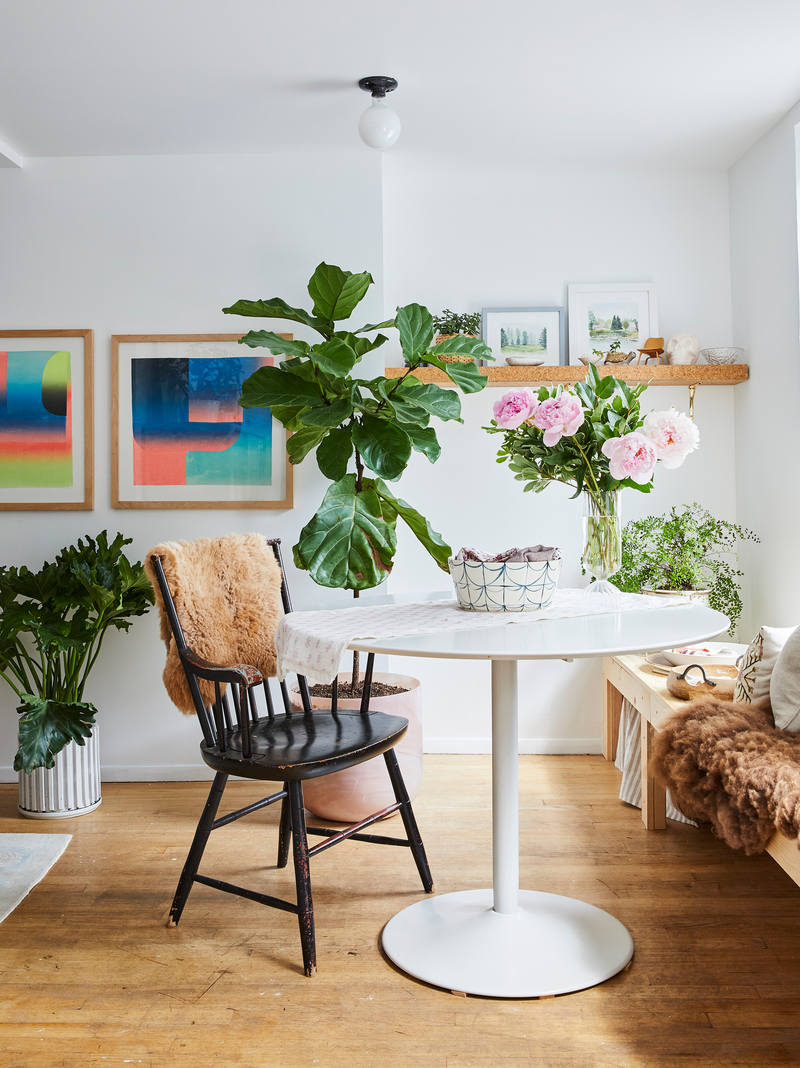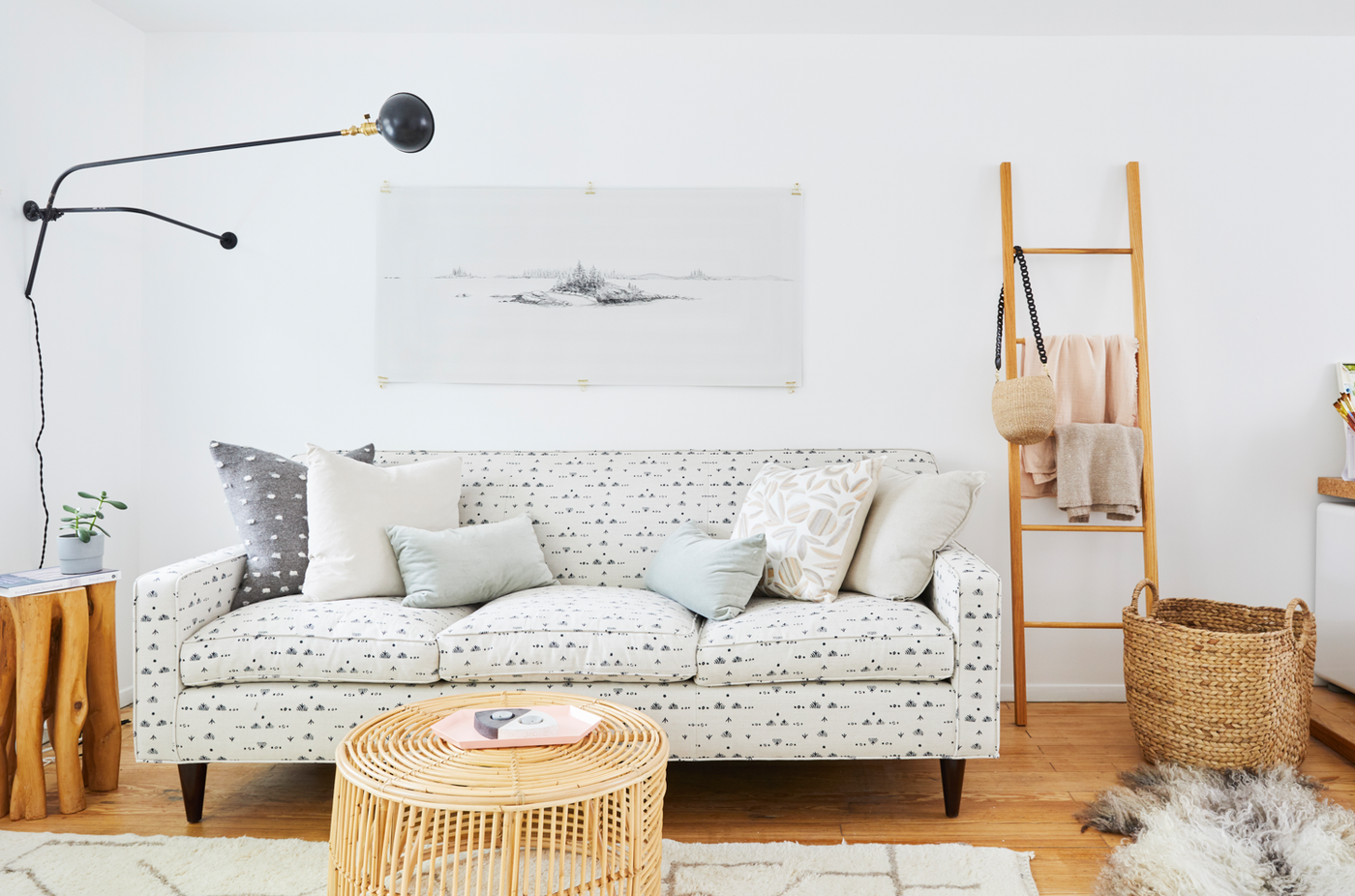 Do you have any tips for committing to a pattern for a larger upholstered piece?

If you can do it, spending the money to give an old piece of furniture a new life, rather than sending it off to the landfill is a worthwhile endeavor! And, if you're going for it, make it unique. I chose this print because it's one color and the print is so unique that I felt I could pair it with all sorts of pillows to change the look easily over time. It's also a sturdy woven, so I know it will hold up for years and years. If you're thinking about committing to a pattern on a larger piece, I recommend a small-scale print like this as it looks more textural than graphic.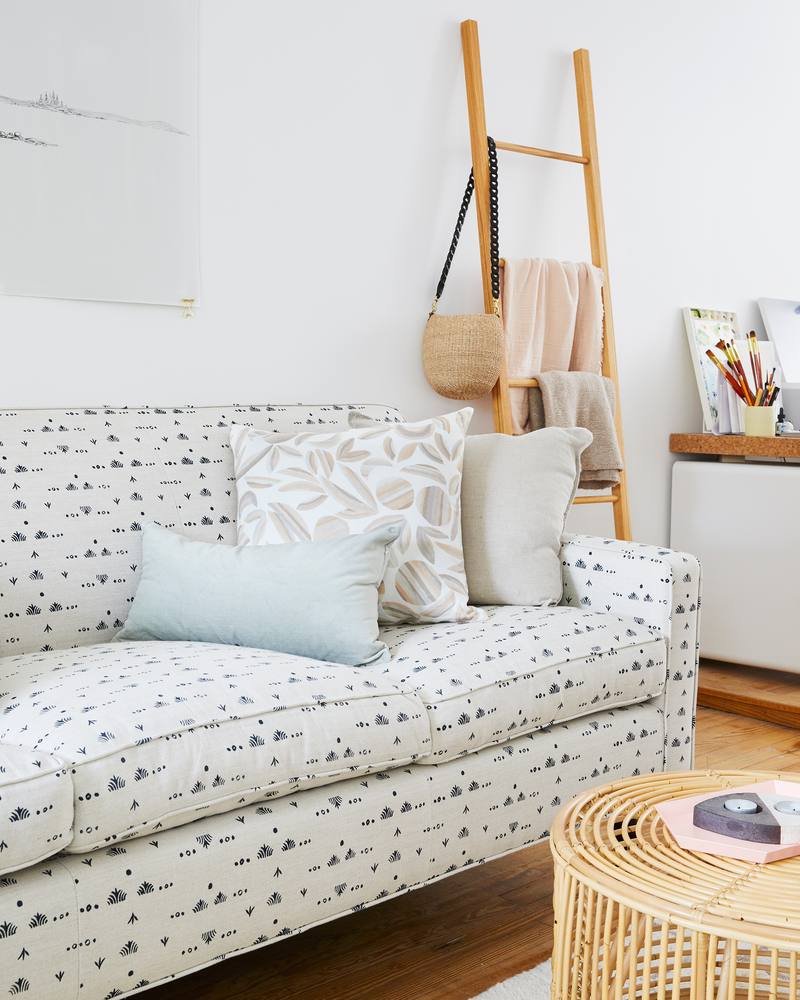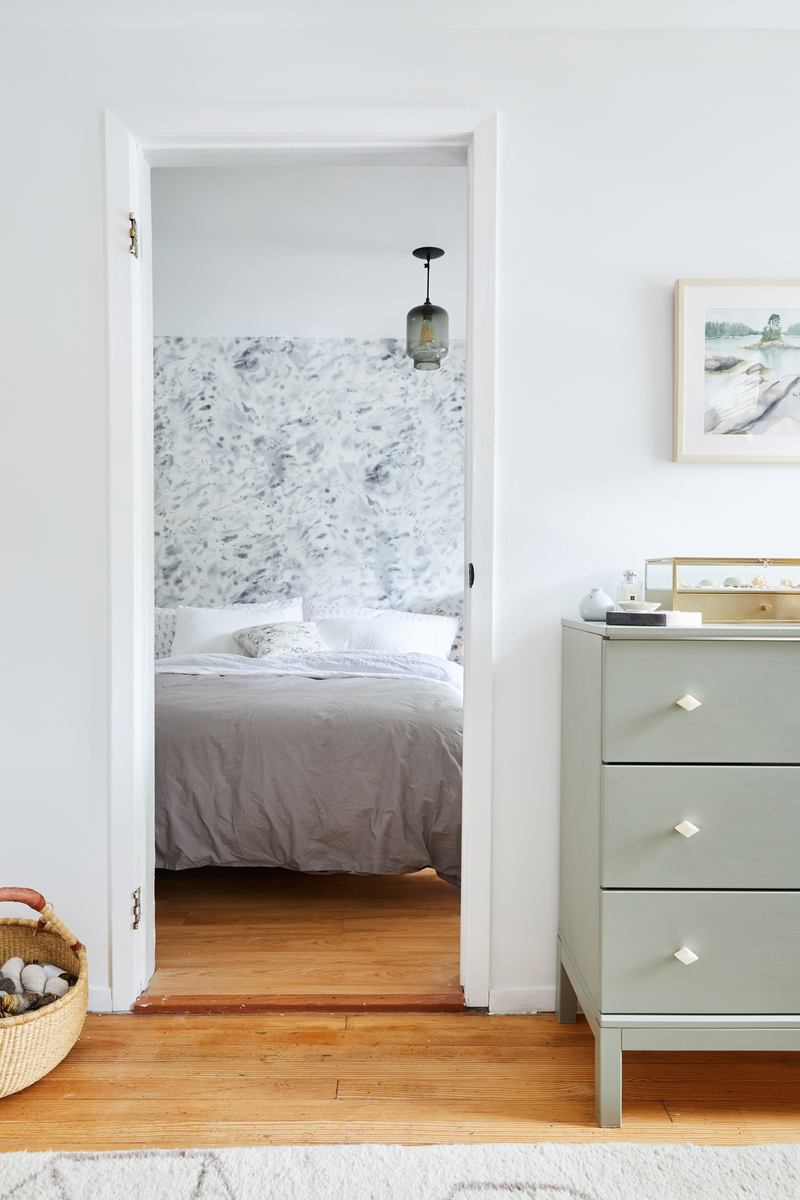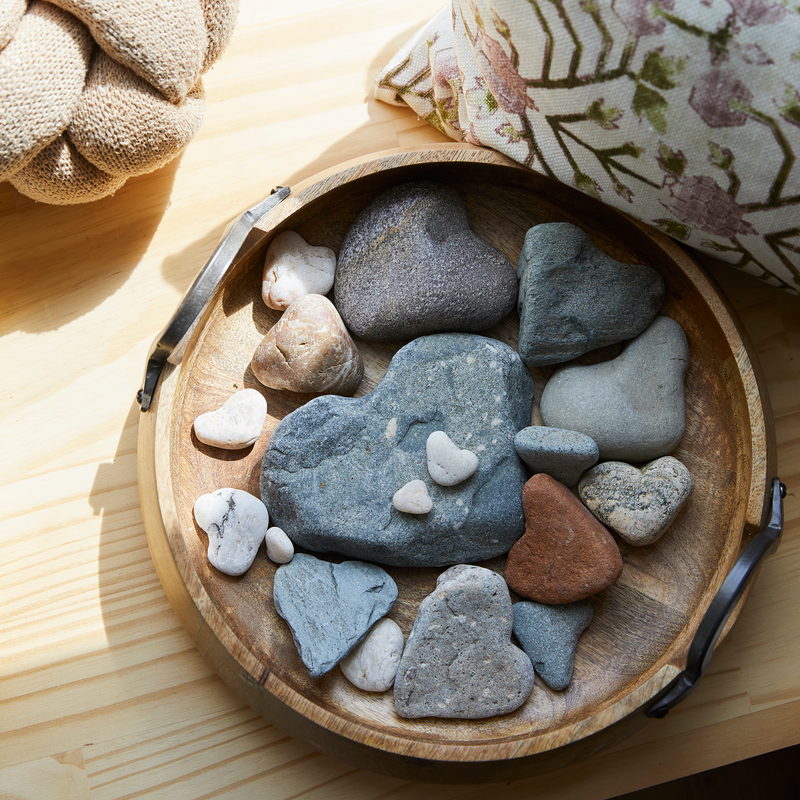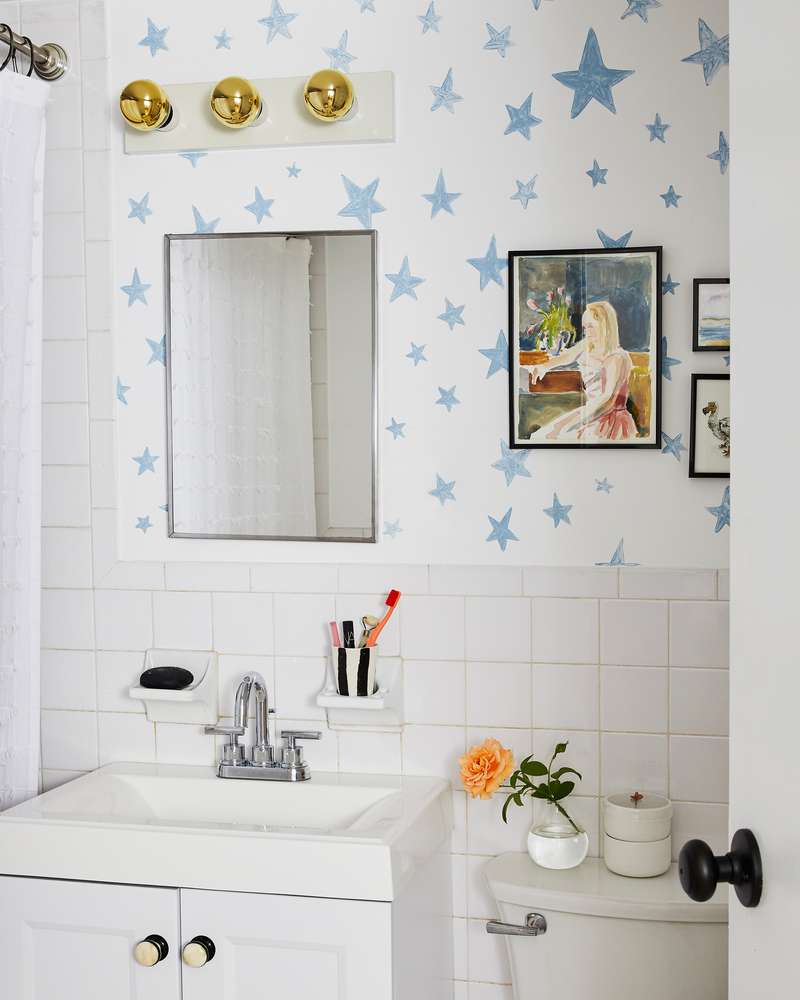 I see pattern as a storyteller, how do you use it in your home?
I think pattern is a way for me to express personality in my home. The wallpapers and textiles that I am drawn to all reflect some part of me, or a place or culture I admire. With clients, selecting prints is always the most subjective and thus the most challenging part- They may not connect with a print for a personal reason, even if I know it will go beautifully in the room.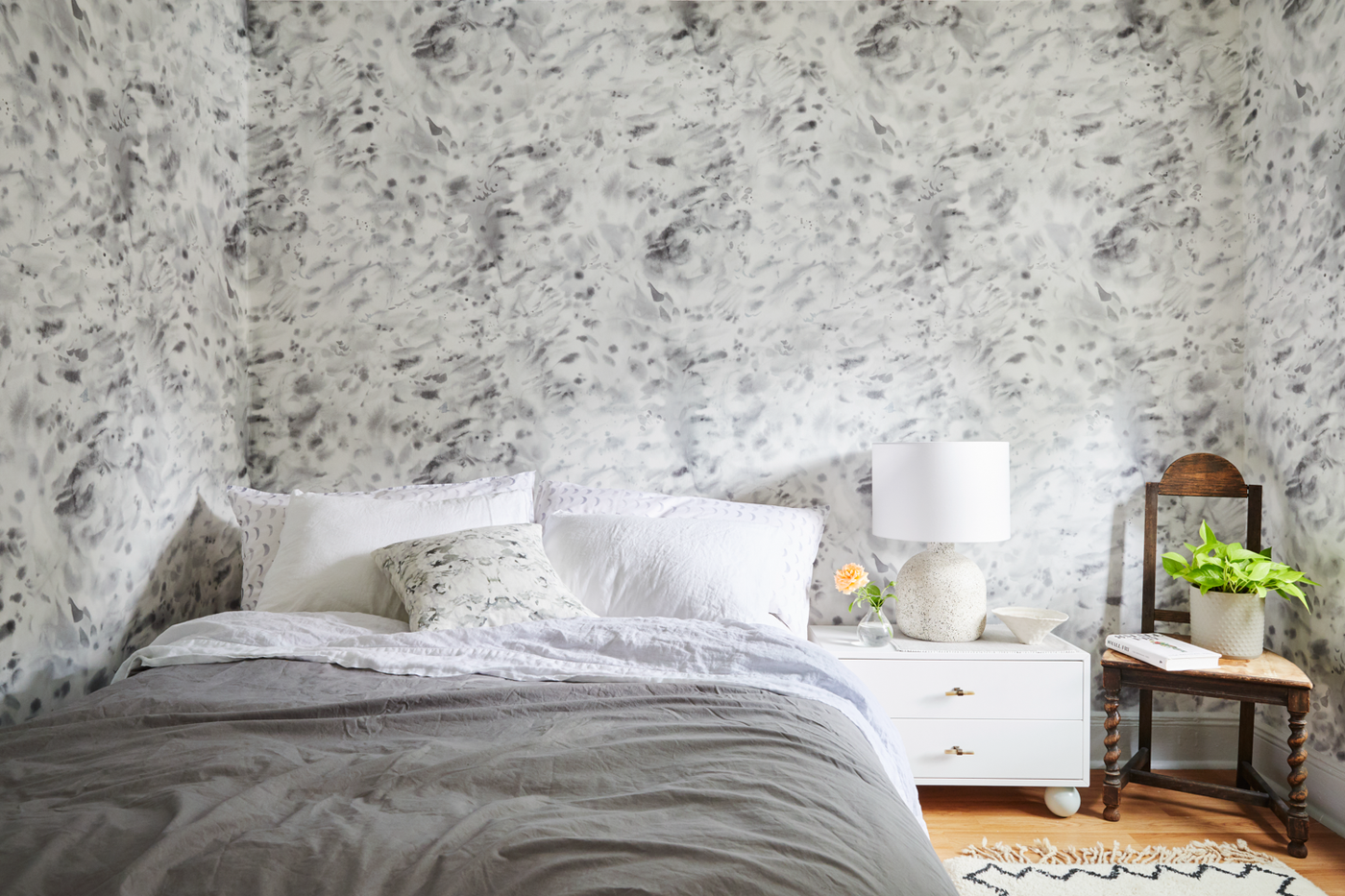 Why did you choose this wallpaper for the bedroom? What does it remind you of?
I can't get enough of this wallpaper, it's so calming to me. It reminds me of white water and sea foam. I only wish I had put it on the ceiling as well. My bedroom is very small, the walls are all slanted, this paper makes it feel like the space goes on forever.
What advice would you give to someone who wants to add more pattern and color into their home?
Don't overthink it, have fun, and it's OK to start small. I have some beautiful multi-color block printed napkins and a fun
woven hand towel that I found at Layla in Brooklyn, even these small doses of color and pattern can really liven up your space.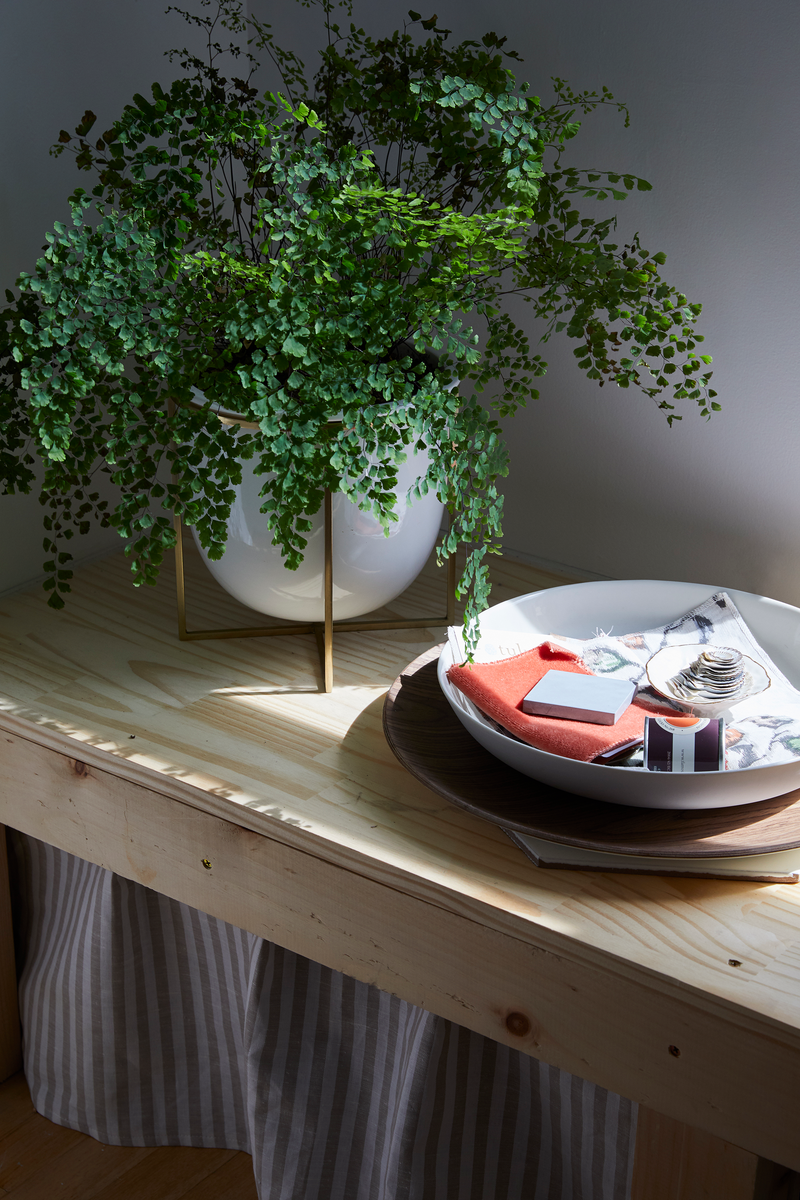 When you work out of your home, how do you make your home and office space work together?
I tried to create storage space for my work things, so it's easy to tuck them away at the end of the day, but there are definitely piles that creep up! Sometimes I will take a messy pile of materials and make a pretty inspiration palette with them and a few objects from my home, and then I feel better even though I haven't actually cleaned up!

What do you wish people knew about working with an interior designer?
There are too many choices available to us in today's world. I think if you can trust that your interior designer has already
seen most of those choices, and is showing you the right pieces, then you can relax and let the process work for you. I put a lot of time and effort into getting to know my clients and what they are looking for, so I can help make their lives easier and their home beautiful.

What are you currently reading?
I've been in a real lull in the reading department, podcasts are just so easy, and multi-task friendly! But I did pick up a Summer read, Commonwealth, by Ann Pachett, and am enjoying it so far. A few favorite podcasts include: NPR Up First, Fresh Air, How I Built This, Armchair Expert, Goop, and Second Life.