Some of our favorite wallpaper installations are bathrooms. We love how quickly and effectively wallpaper's colors and patterns can set the mood in the spaces where we spend quiet moments throughout the day. It really is transformative. In a powder room, you can try out a small dose of a wild pattern or dark color where your guests will see it. In a primary or children's bathroom, it can create a calming, invigorating, or playful atmosphere. There are so many ways the best wallpaper for bathrooms can add personality and style.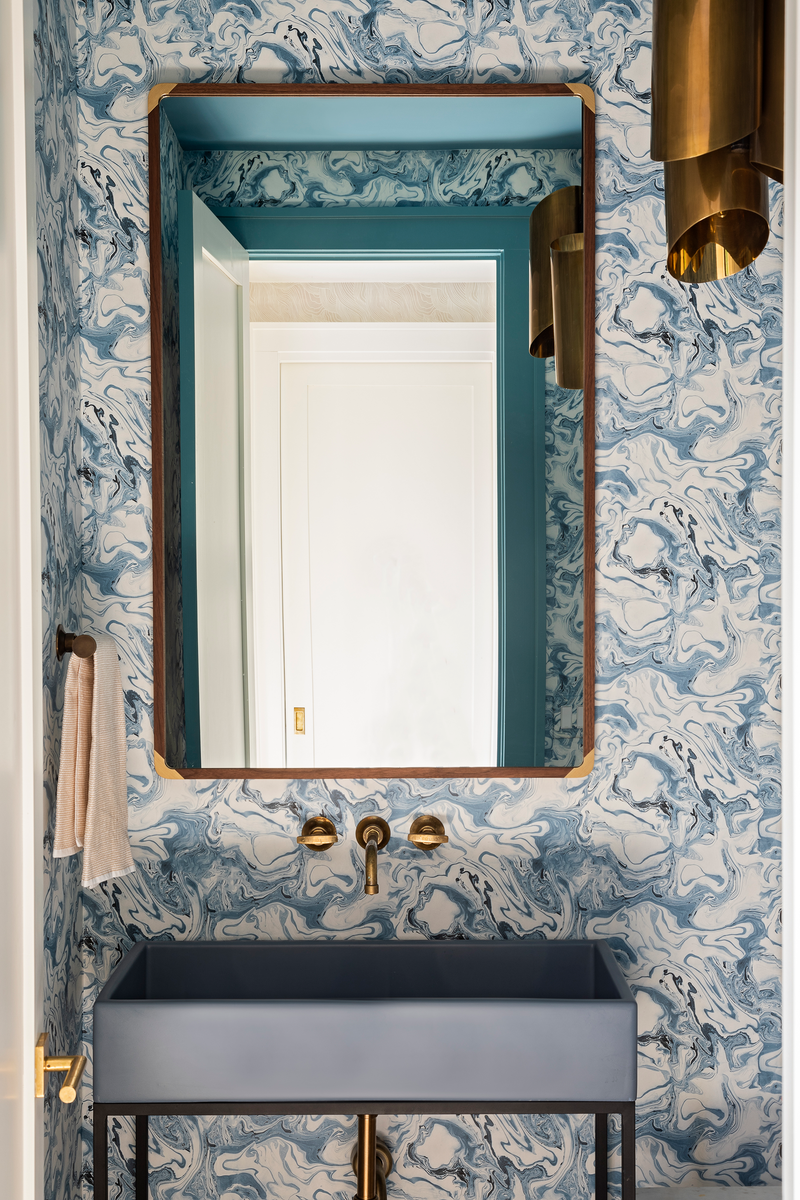 Customers often ask us, "Can I use a wallpaper in a bathroom?" or "Can I use wallpaper in a bathroom with a shower?" We also hear, "Can wallpaper get wet?" quite a lot. It's a natural question because paper and water typically don't play well together. However, we love to see our wallpapers used in all types of bathrooms, and yes, it's safe to install our wallpaper in a bathroom. We do, however, recommend using different wallpaper grounds and design strategies to protect your walls depending on the specifics of your project. 
Our standard clay-coated paper and vellum grounds are wipeable, which makes them a great choice for powder rooms and low-traffic bathrooms. They've been used in a variety of residential applications including bathrooms by many of our clients in the past, so much so that we have devoted an inspiration page to the projects. Wiping down our standard grounds is easy and won't damage them if done with care. We recommend using a soft damp cloth and avoiding harsh chemical cleaners such as bleach.
Our grasscloths and paperweaves look beautiful in bathrooms too. In fact, Rebecca has installed a paperweave in her own powder room in Charleston. But it's important to know that these natural fiber wallcoverings are more susceptible than our other grounds to water damage. They can easily become stained by water. For that reason, we recommend using them in areas of low-traffic powder rooms where they're protected from water. It's a good idea to test a sample before choosing a grasscloth or paperweave.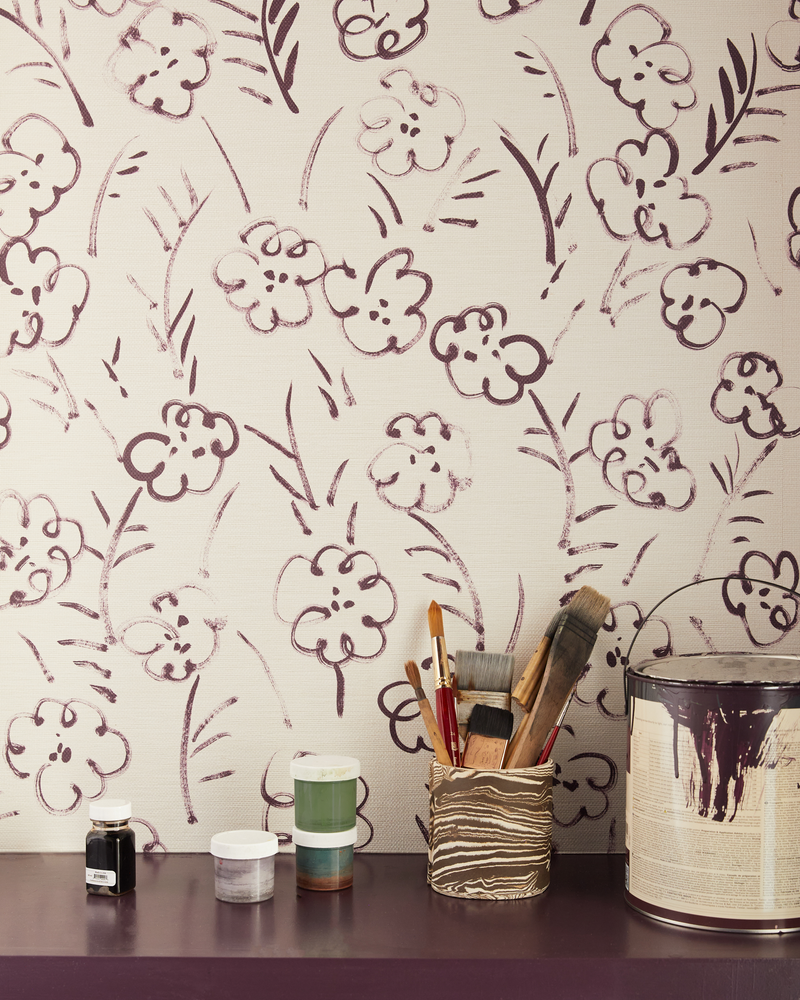 For high-traffic areas that are more prone to splashes, scuffs, and stains, like a children's bathroom, playroom, or entryway, we recommend using our performance quality ground. It's a nonwoven fiber that combines the stain and water resistance of a traditional commercial Type II vinyl with a beautiful ultra-matte finish and PVC-free composition. Our performance quality ground is a custom order; please reach out to us for more details or to request a sample.
In any case, we recommend using our wallpaper in well-ventilated areas that don't stay wet. Bathroom walls are mostly fine; inside the shower probably isn't (unless you have a creative solution!). That said, there are plenty of clever ideas you can draw on to make practically any bathroom more wallpaper friendly, from the way you use tile and woodwork or even glass to the type of sink and backsplash you choose.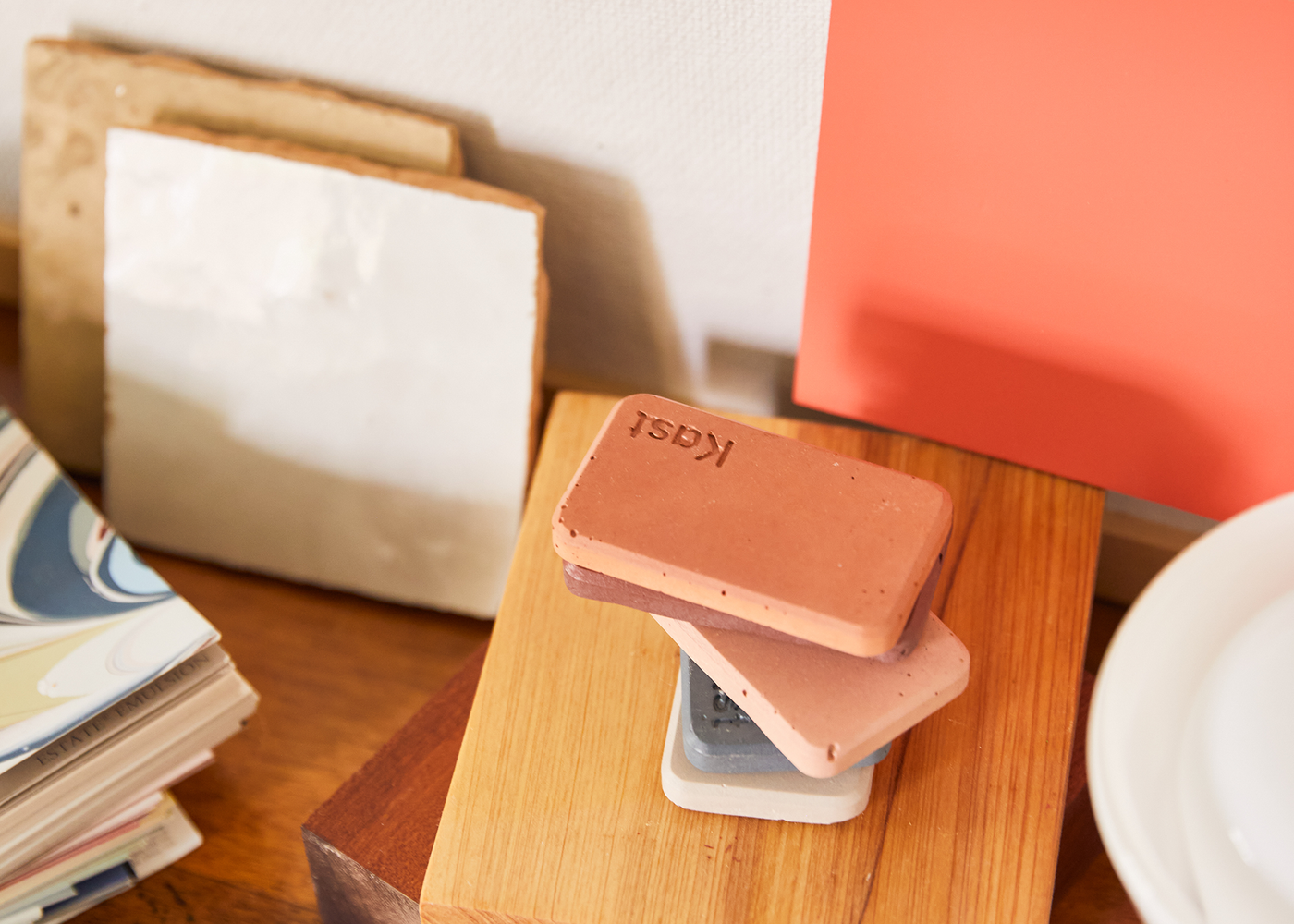 Backsplash
In a low-traffic or grown-up bathroom, a backsplash may be all the protection your wallpaper needs. You can adjust the height to your comfort level or design preference. We love how a backsplash looks when it continues the material of the countertop.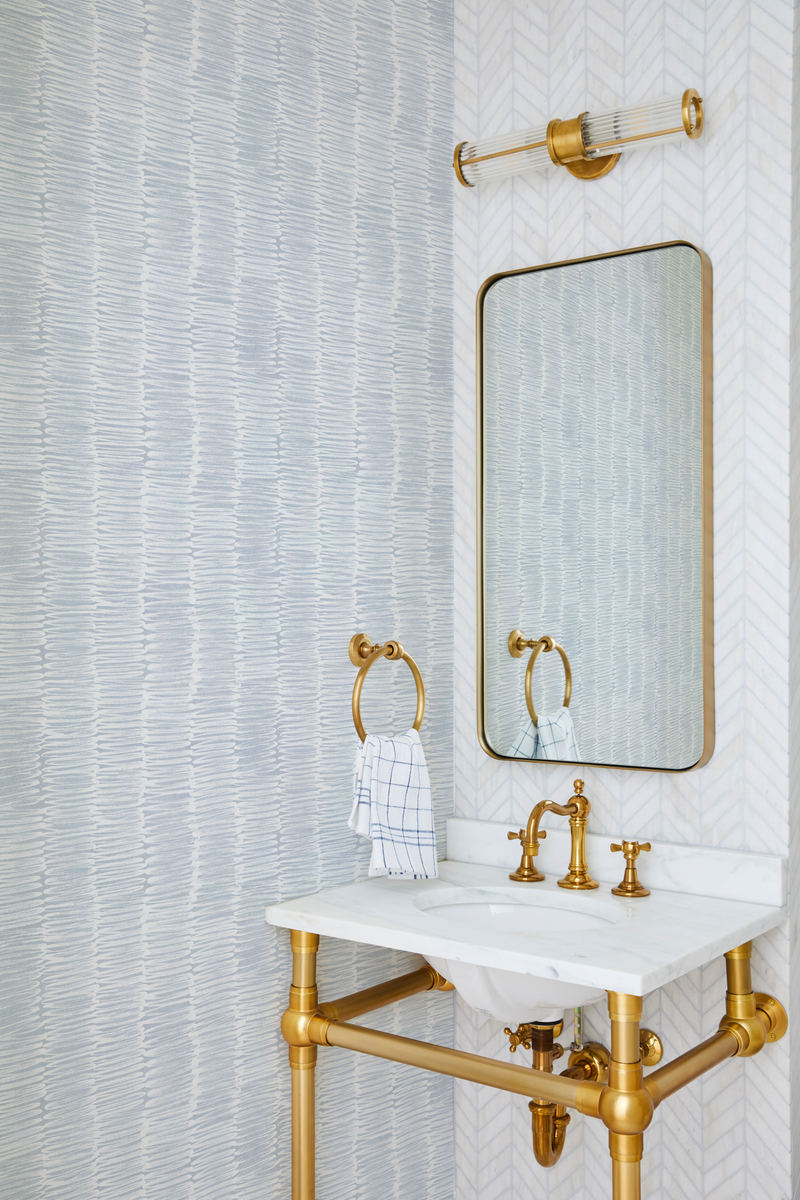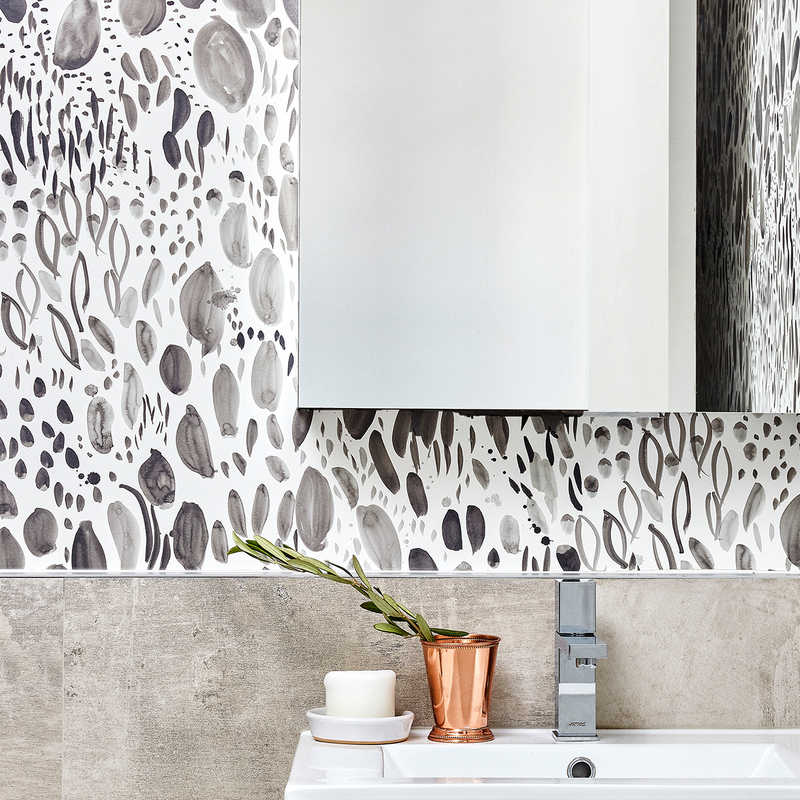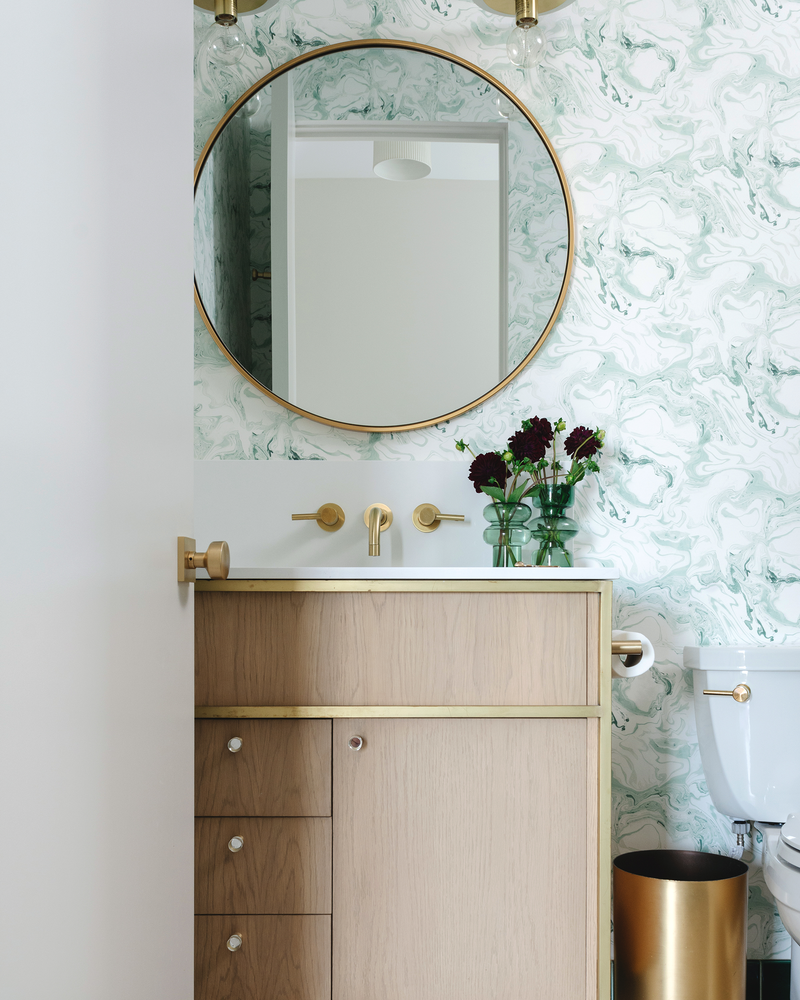 Wainscoting
Using wainscoting such as shiplap or v-groove wooden paneling on the lower two-thirds of a wall in a bathroom and wallpaper on the top third keeps the wallpaper well out of the splash zone. We love this idea for any bathroom but especially for children's bathrooms because it makes them so easy to update with new paint colors and wallpaper designs as your children grow and their preferences change. 
Tile
Tile can be used instead of wainscoting to make the lower portion of a bathroom wall more resilient. Using a different shape and finish of tile on the wall and floor opens up the potential to create a rich textural contrast. You can also use it in place of a solid surface backsplash. We love the look of just a few tiles behind the sink for protection. It's a beautiful way to highlight special tiles and give them the attention they deserve while bringing in another contrasting color or pattern.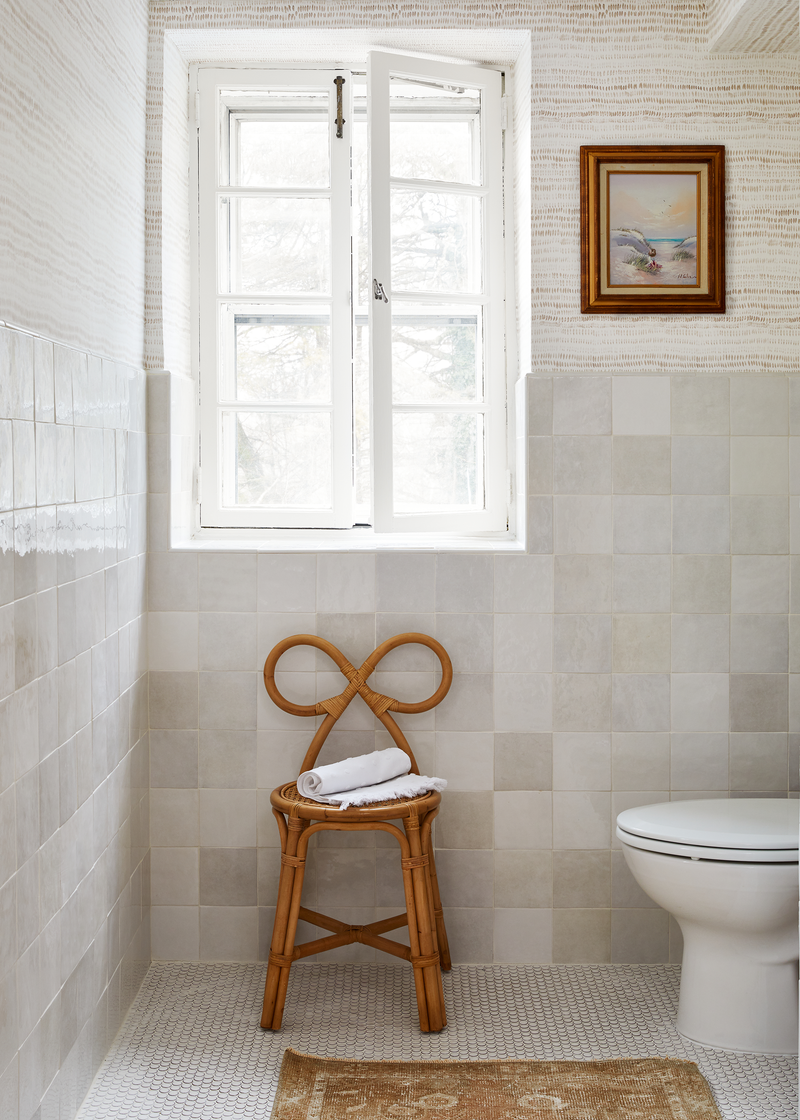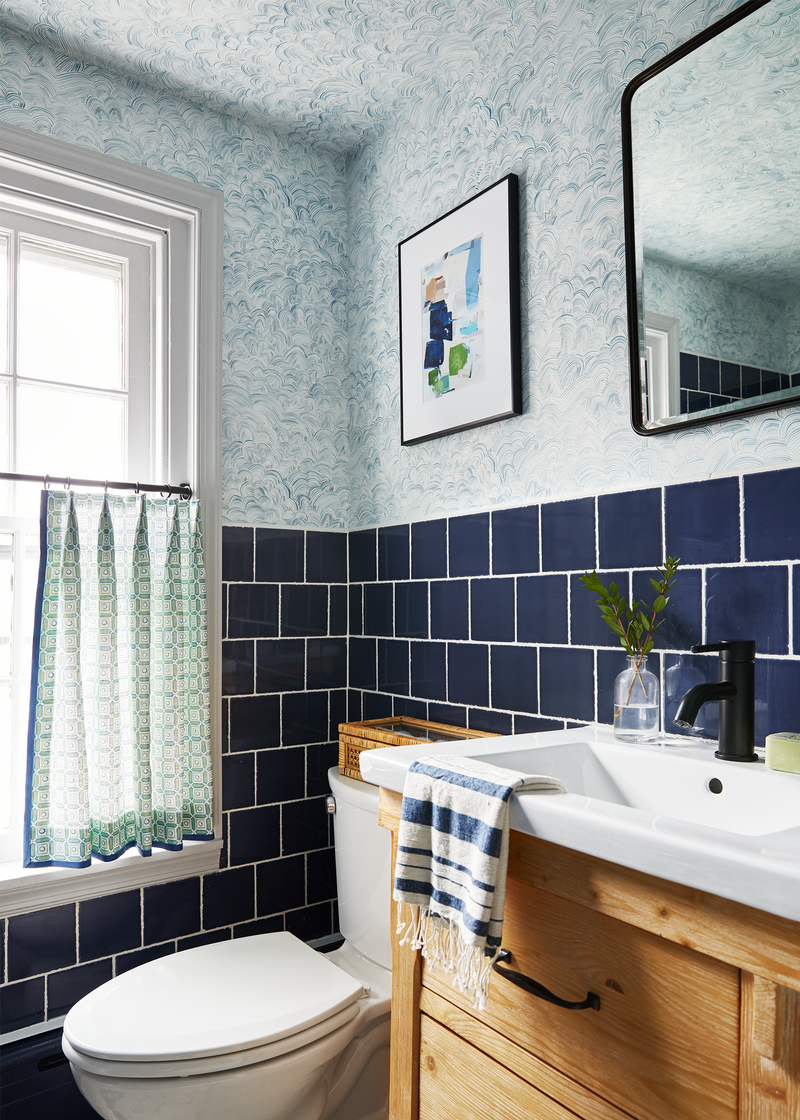 Glass (or Plexiglas) Panes
We love how designers like Beata Heuman and Rita Konig use glass to protect wallpaper in bathroom installations of all sizes. It's a British custom that, in addition to guarding against splashes, reflects light beautifully. If your bathroom has a glass-walled shower, you can continue the glass all the way up to the ceiling with a transom to help contain the steam and protect your wallpaper.
If you're wanting to add a bit of personality and style (and even fun) into your home, wallpapering bathrooms is a great place to start.
See more on the inspiration section of our website.