Living with Pattern: Holly Howard
Holly Howard is an amazing business coach who I've had the pleasure of working with since 2016. She is one of my favorite people and it's no exaggeration to say that she's changed my life. Taking Holly's class opened a world of thinking about my business that I really hadn't been aware of previously. Realizing that I could define our values and make business decisions based on them completely changed how I thought about my work and the path we've taken. I'm thrilled to share a tour of her home. It's always an honor to be able to see someone's personal space and talk to them about how they use it, but even more so with someone I admire so greatly.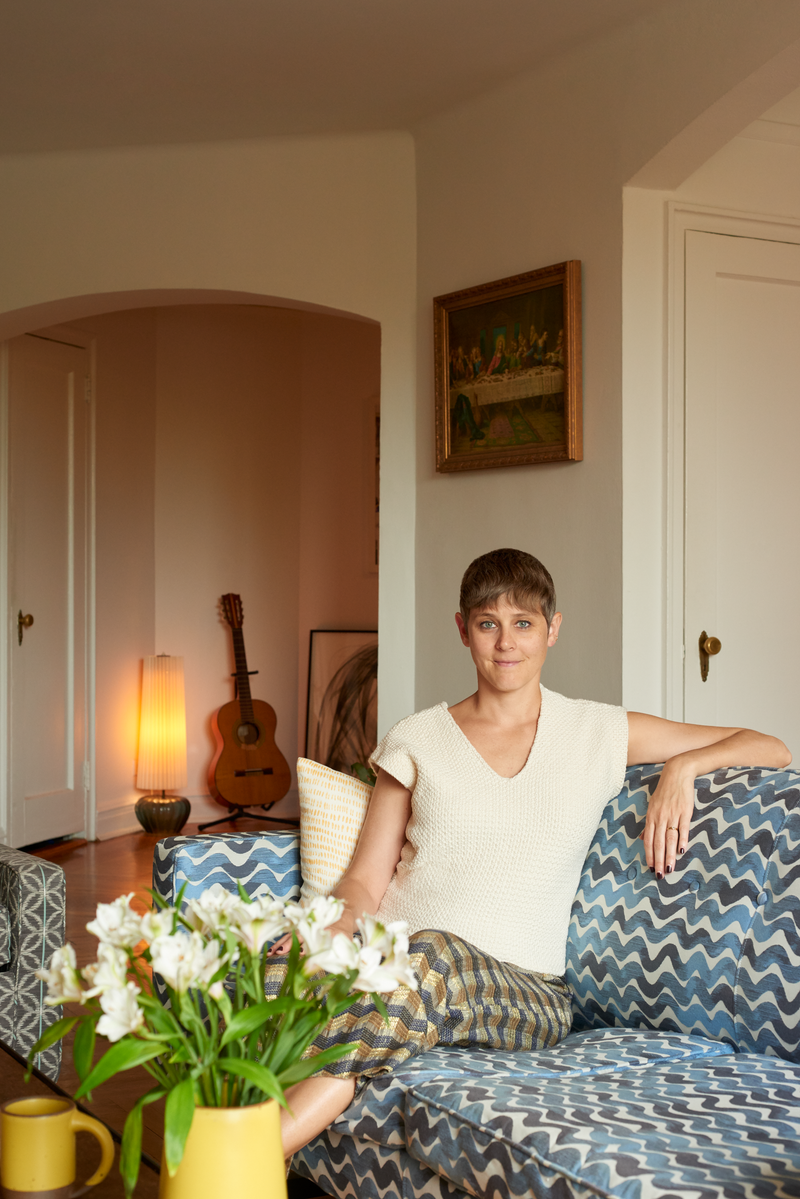 RA: Tell us about yourself – where did you grow
up and what do you do now?
HH: I grew up in suburban Illinois. It's been a long journey to my current career as a business consultant for creative entrepreneurs.
What does 'home' mean to you?
I'm a true home-body and home is definitely my sanctuary. It is where I do my best thinking, restore myself and give myself the space to listen to the thoughts in my own head. Home is where I spend most of my time when I'm not working so it's
important that it is a constant source of inspiration for me. I'm very into stay-cations now.
What is your favorite thing about your home?
Probably all of the sunlight that we get in our apartment. I love living on the water. It easy to forget that you live in the city out here where the view is so expansive and all you see is nature. It doesn't feel like the rest of the city where you might look out of your window and see another building.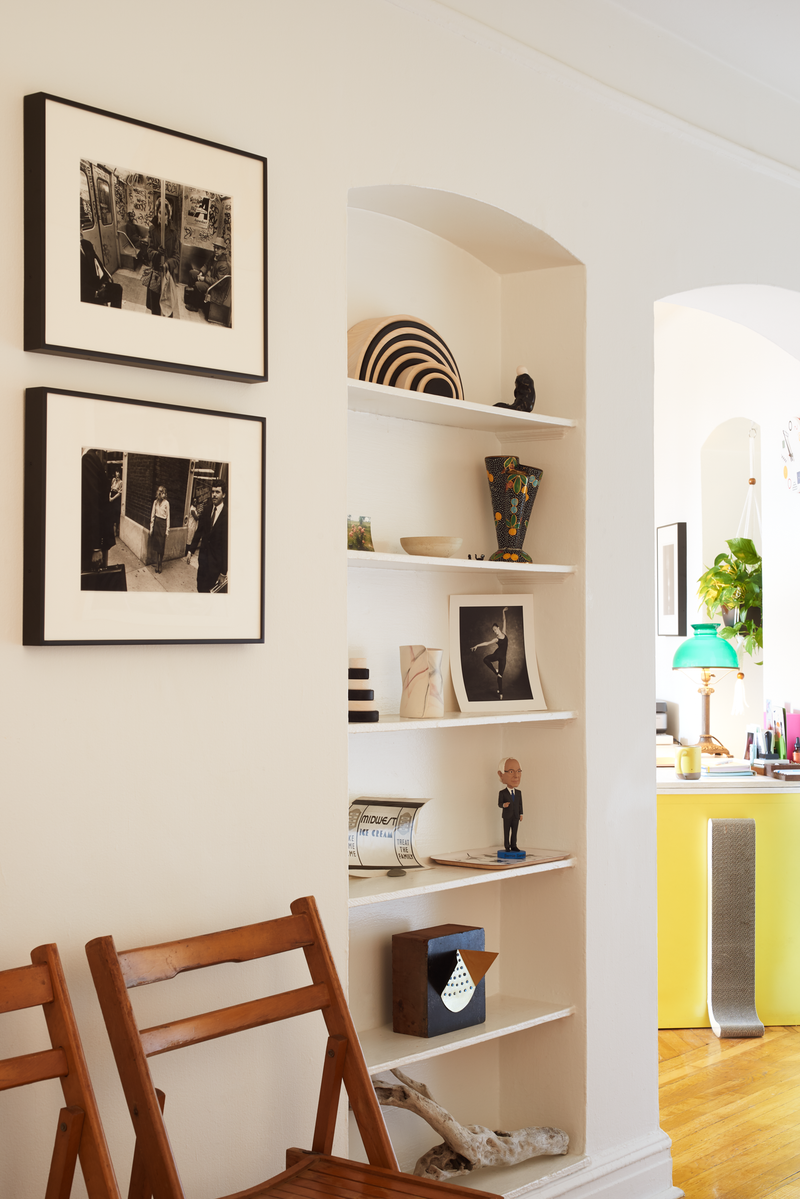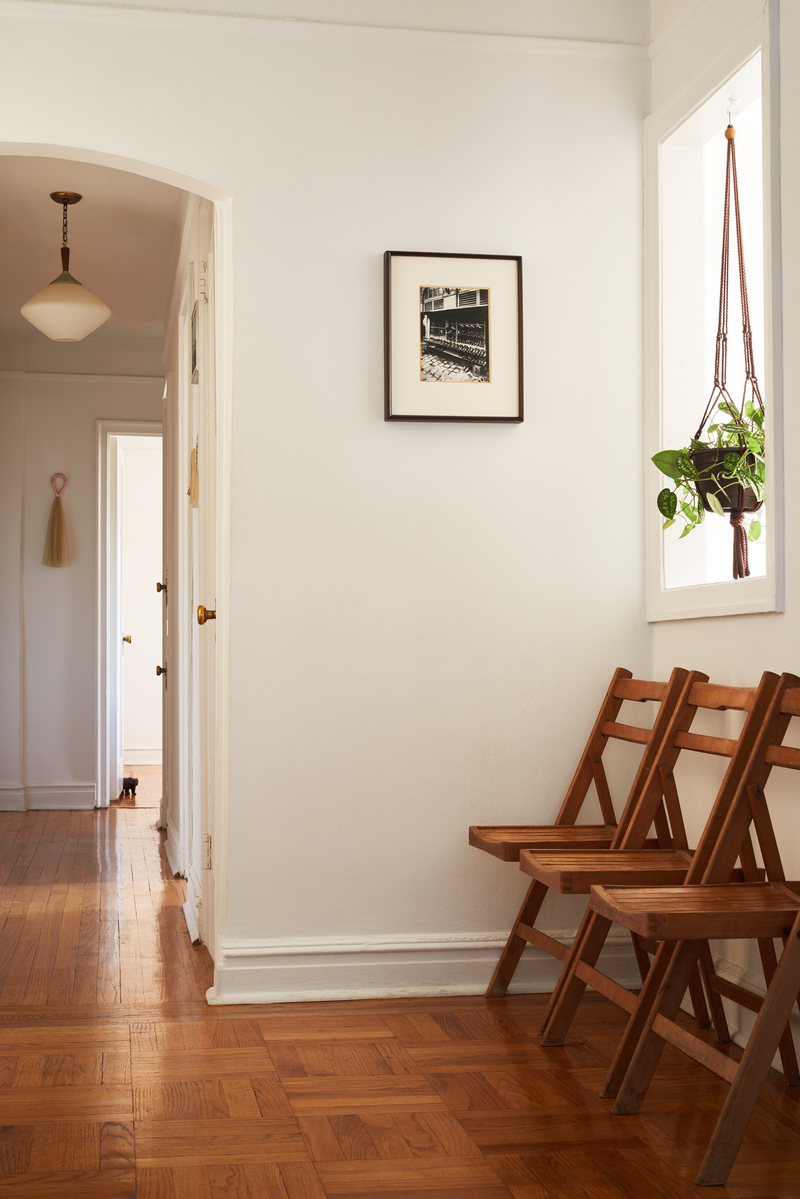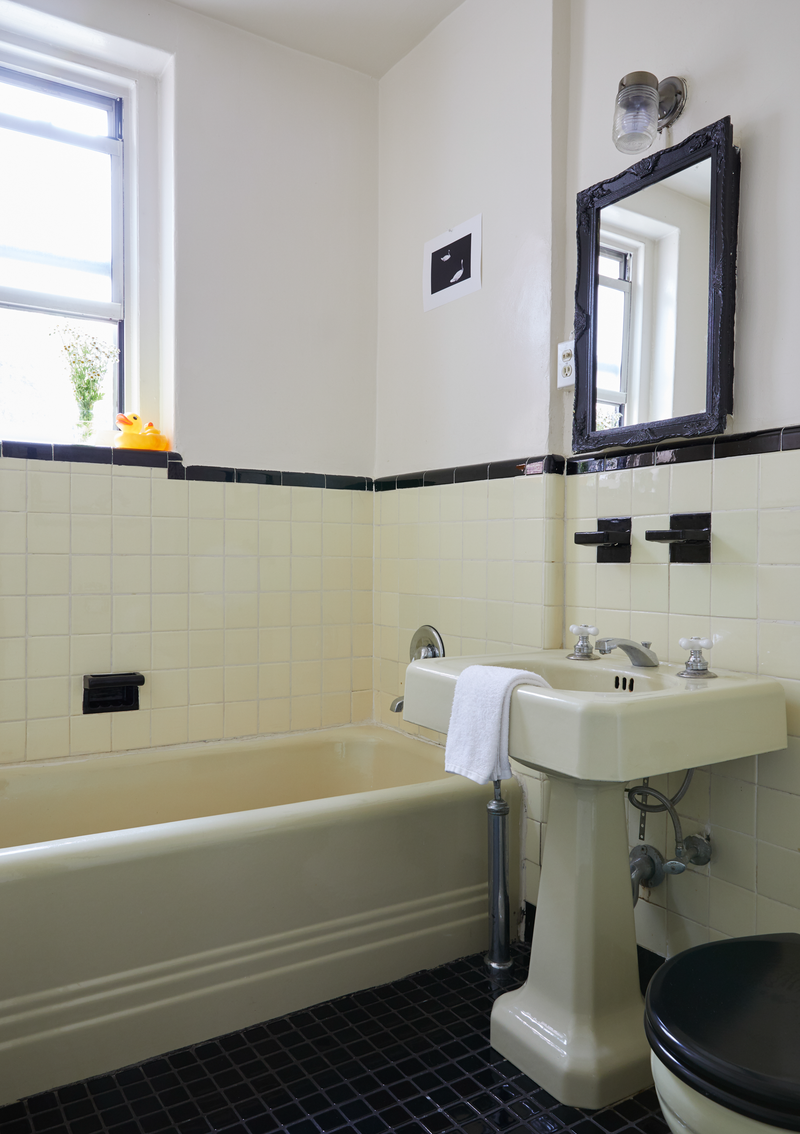 What's your approach when it comes to personalizing your space?
Go with your gut.  I believe what's most important is to surround yourself with items that reflect and reinforce your
life story. Our photography collection is very personal and tells a lot about our life together. Since I have worked with a lot of design companies, I was excited to bring those whose points of view I found inspiring into my home.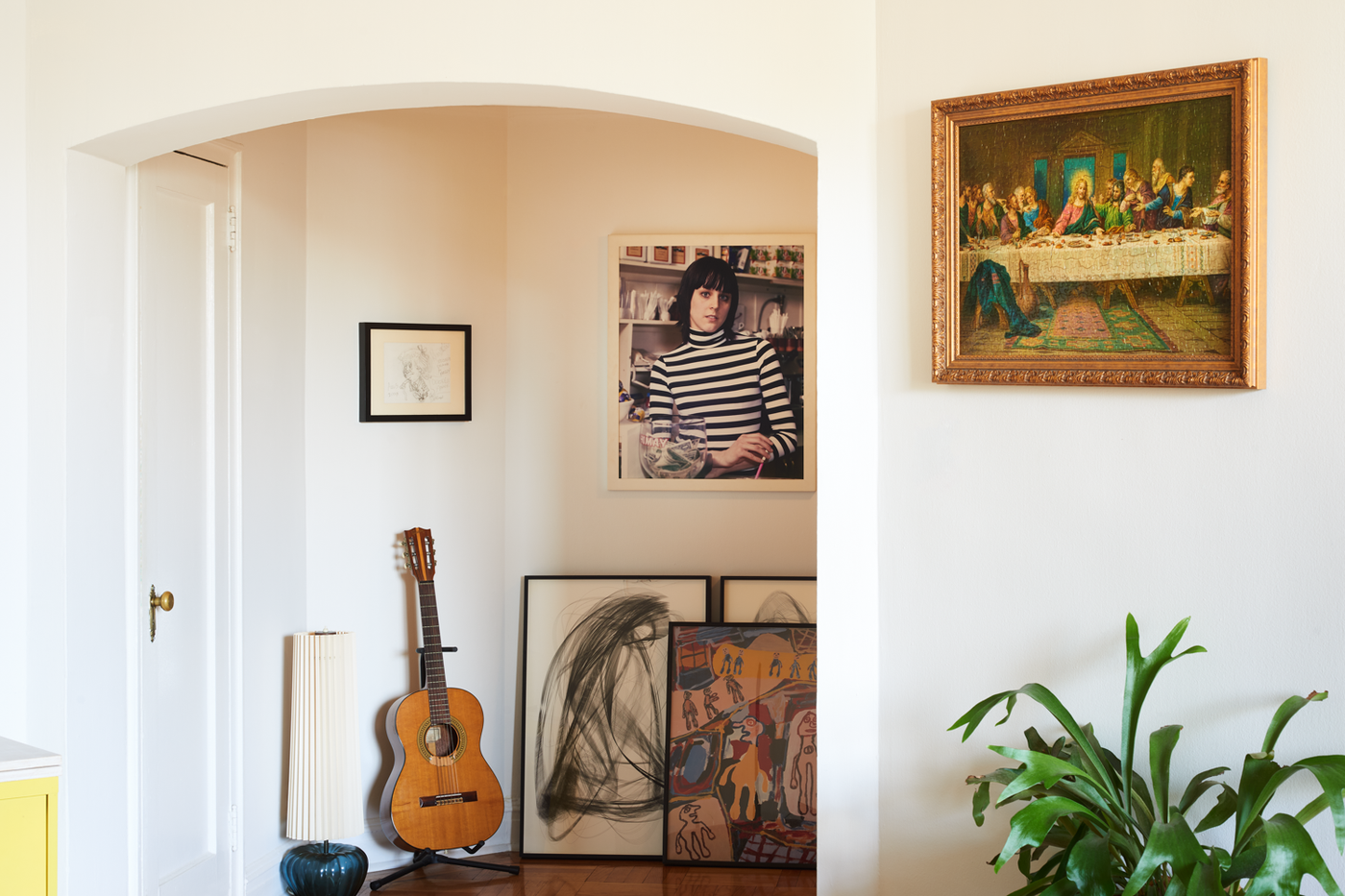 How do you think the aesthetic of your home affects you?
Hugely. I think it's something that designers don't speak to enough. Our quality of life has totally shifted since we had our sofas recovered and built out our home. It's so much more serene and grounding which is really important to me living in the city.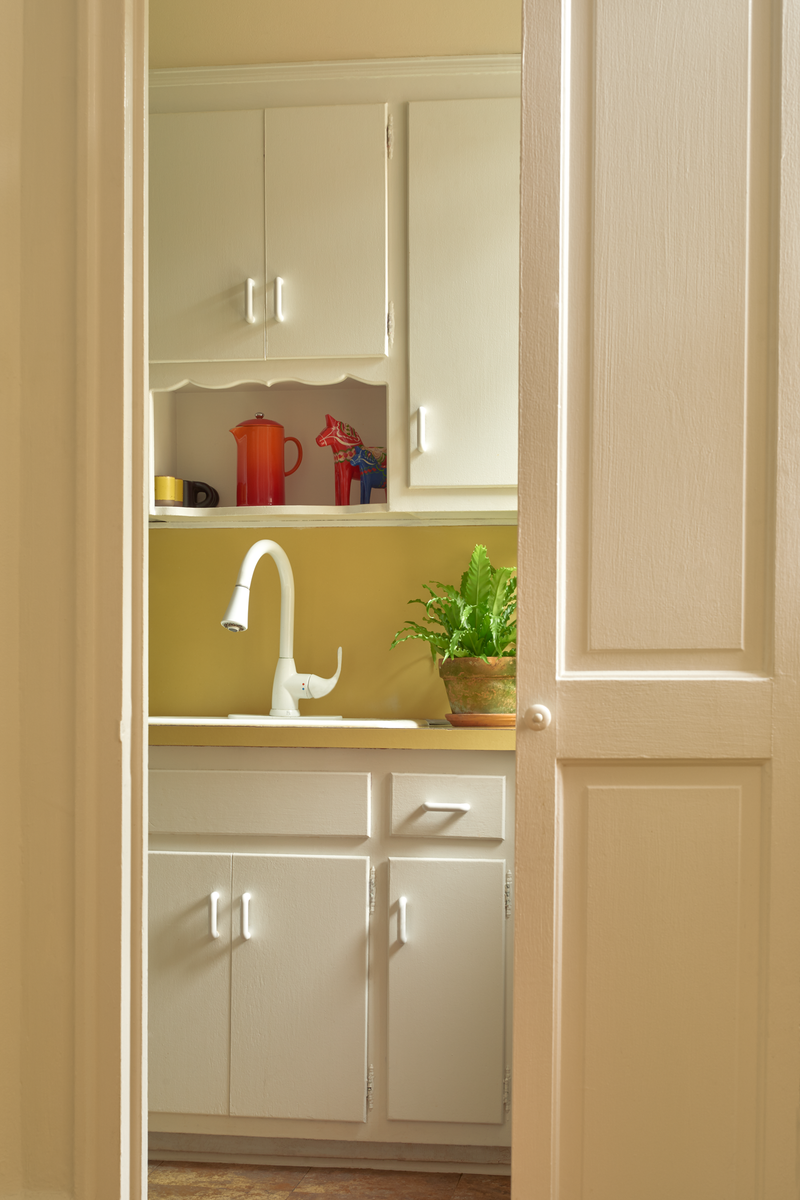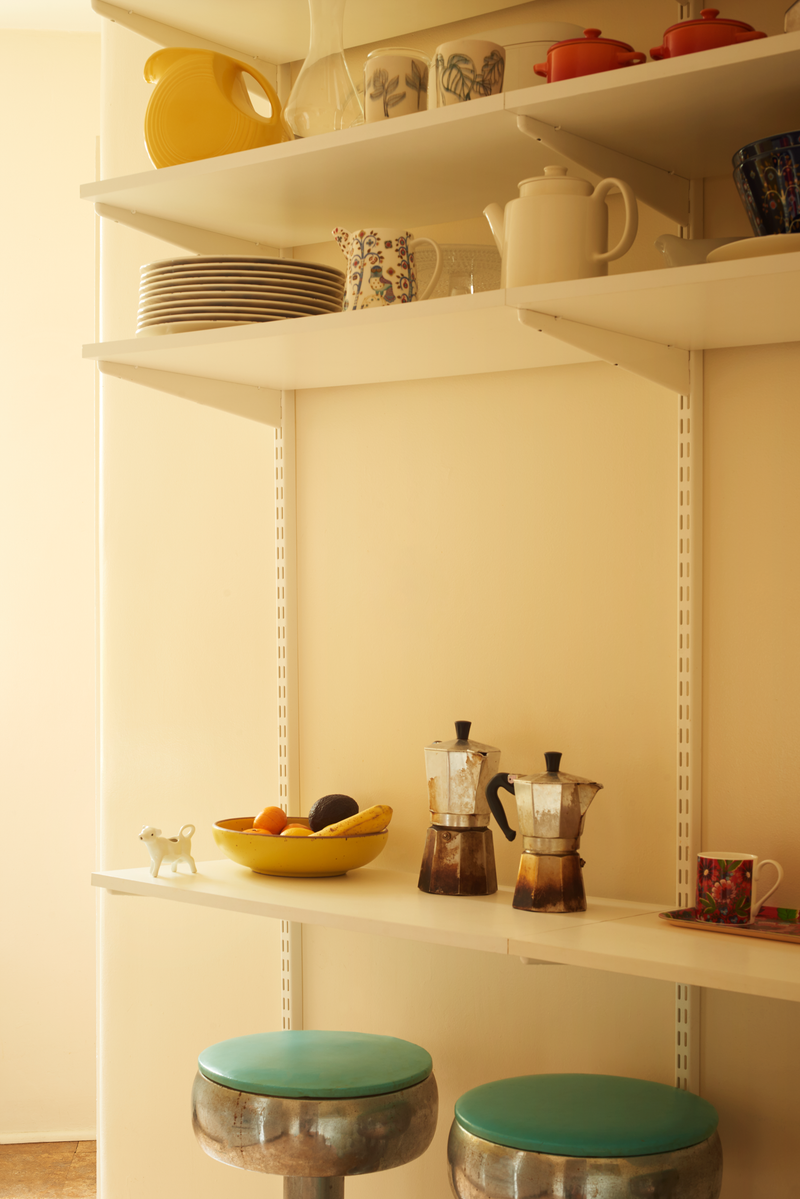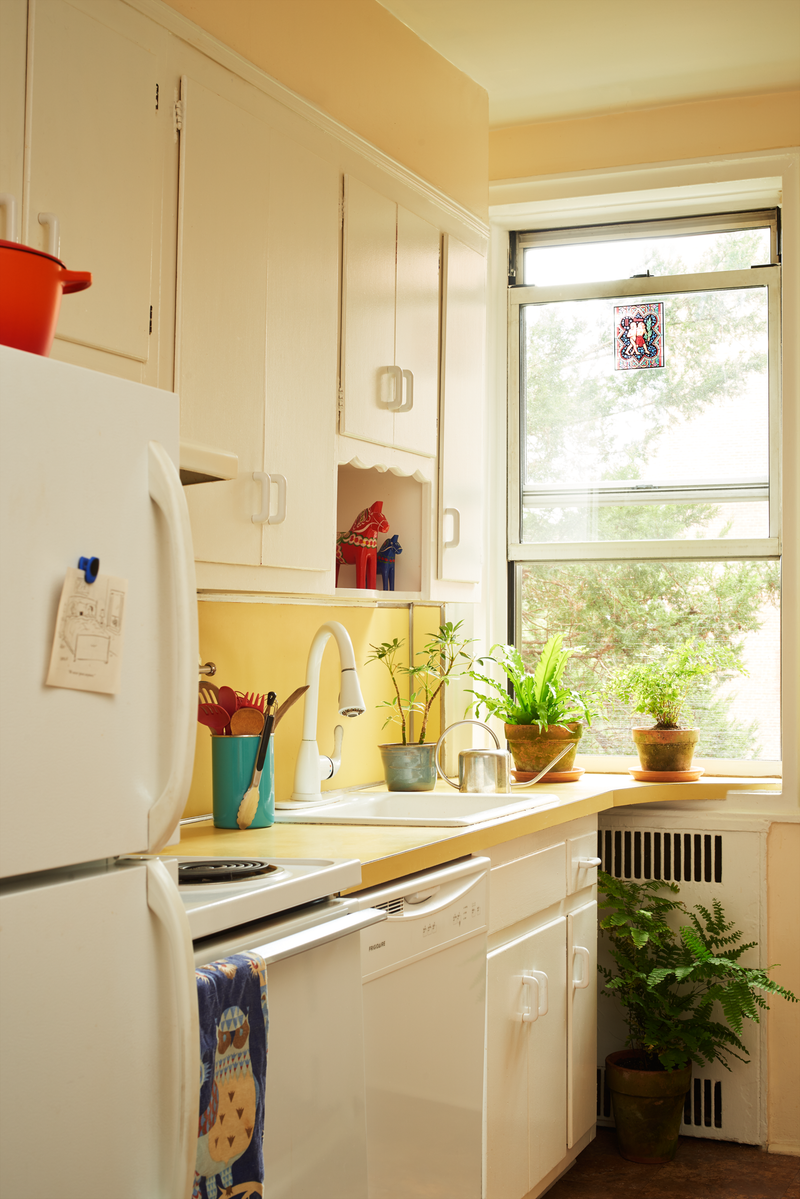 The building you live in is so interesting, can you tell me a little bit about it?
The Colonnades is a magical space in Bay Ridge. It was built in 1936 and on the original brochure it says "to those with fastidious taste".  We love the apartment because of the small details and the fact that we can watch the sun set over the ocean every night.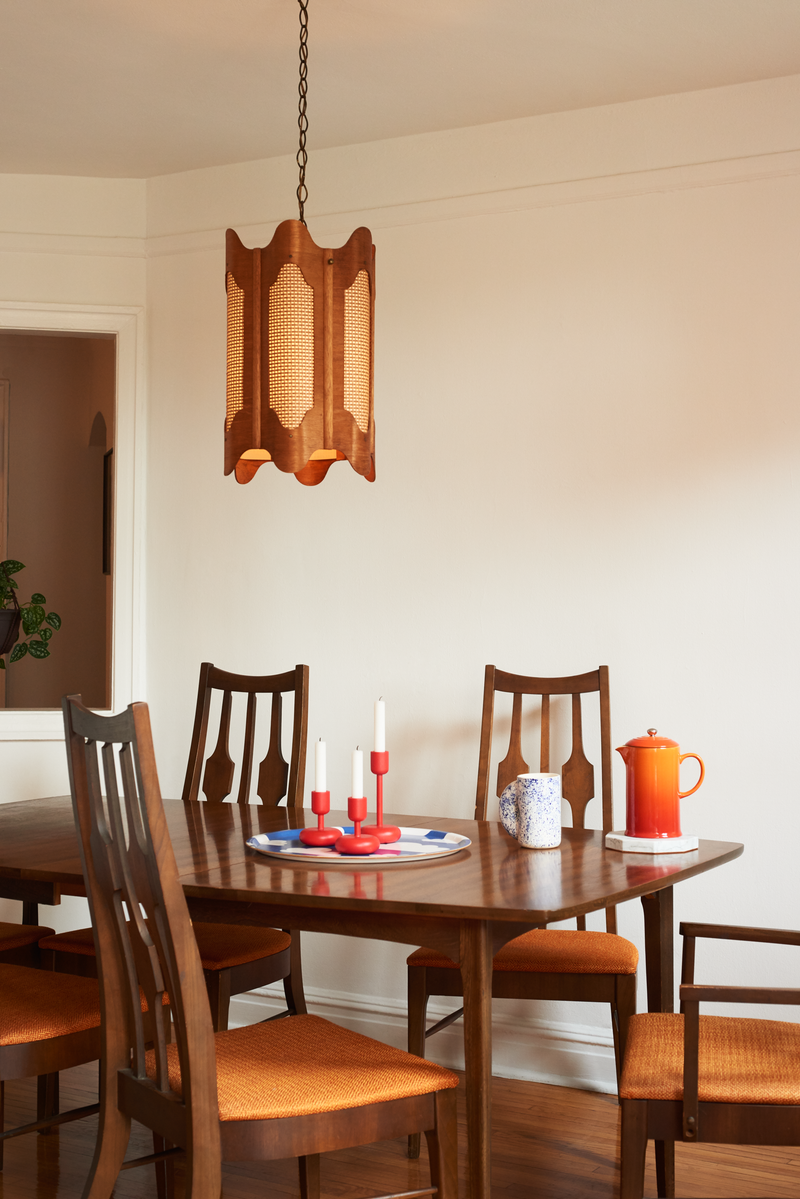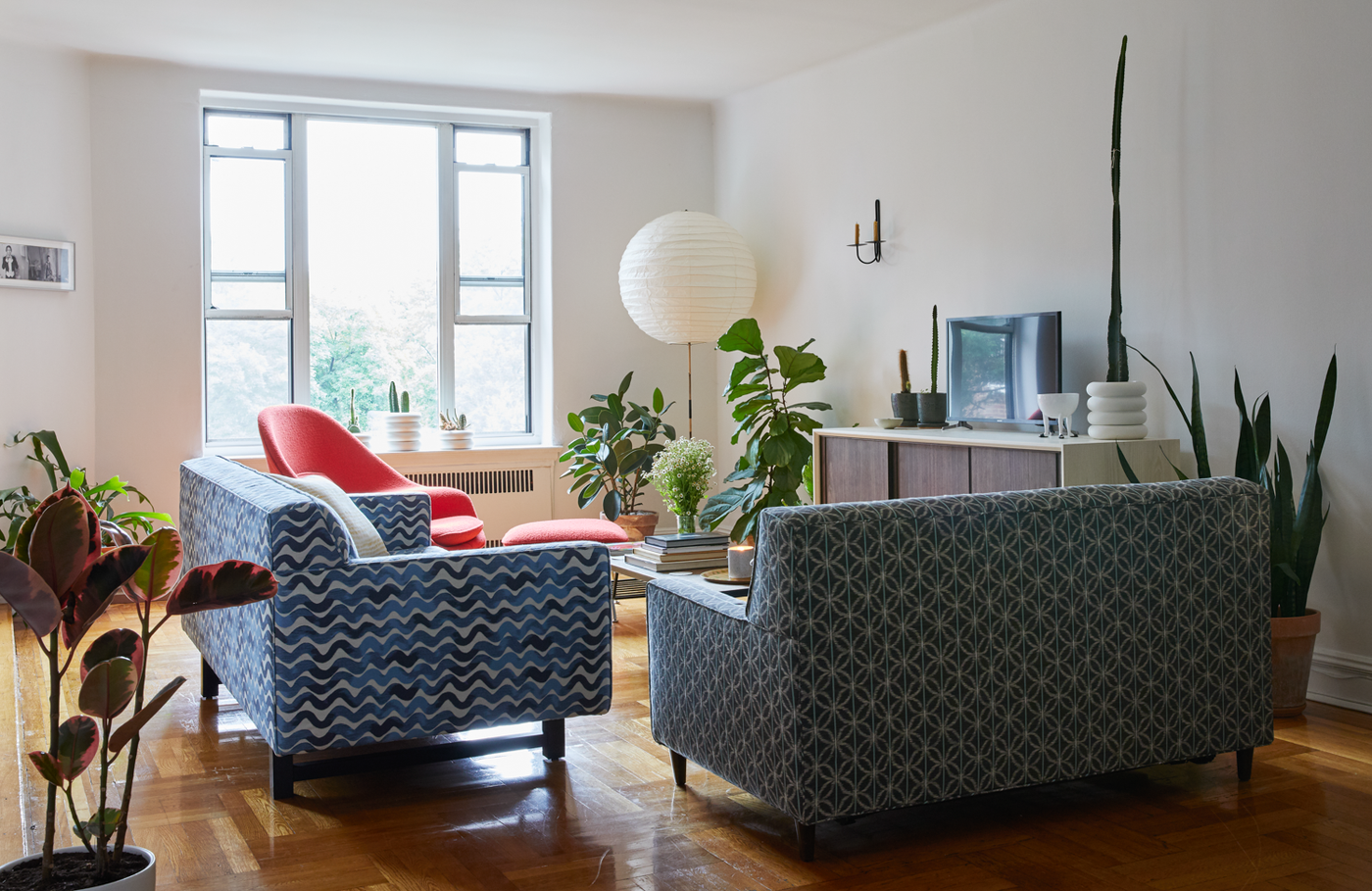 Why did you choose these fabrics for your sofas? How do you feel they work together in the space?
When we moved back to the city, it was super important for us to bring nature into our home.
Since we are on the water, your waves fabric was the perfect pattern to reflect our experience. And then we chose your floral Ikat fabric for the second sofa for the same reason. It's reflective of all of the trees that are right outside our windows. We also have one of your printed pillows - yellow dashes -that very much remind me of the sunshine. Essentially I wanted to live within the landscape that was right outside my window and it works! There's such a feeling of joy, grounding, and relaxation from the combination of your patterns. I constantly feel like I'm on a stay-cation!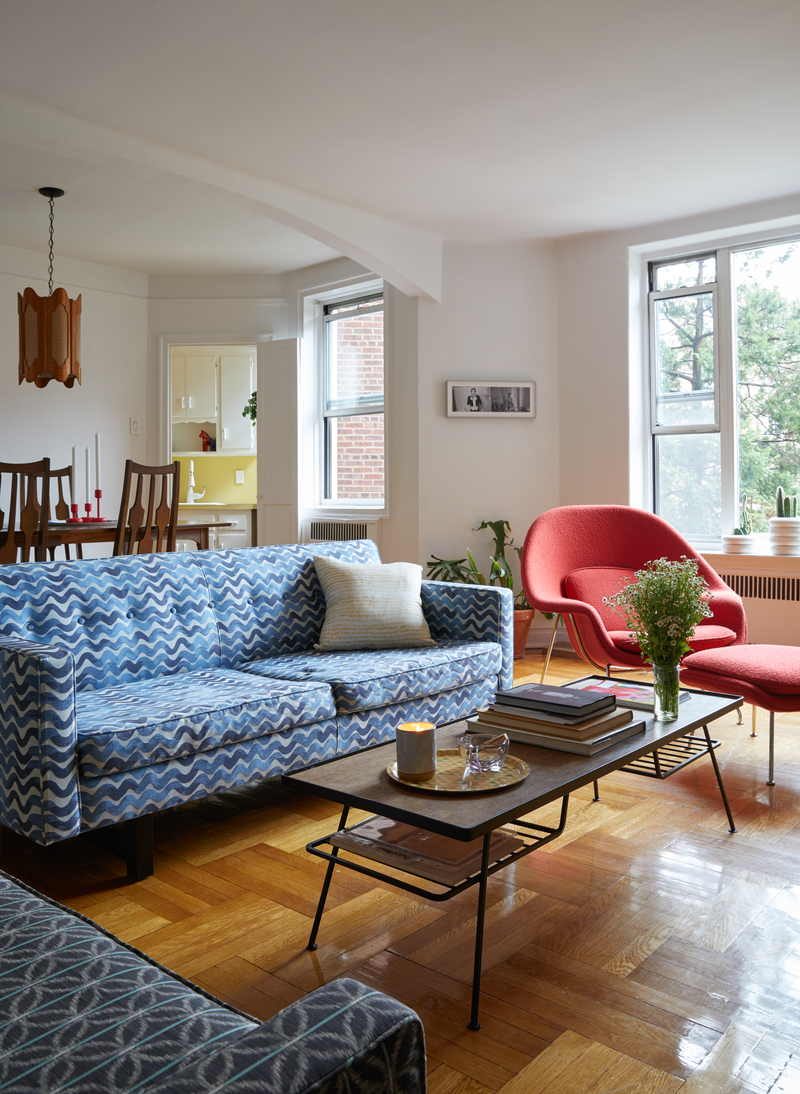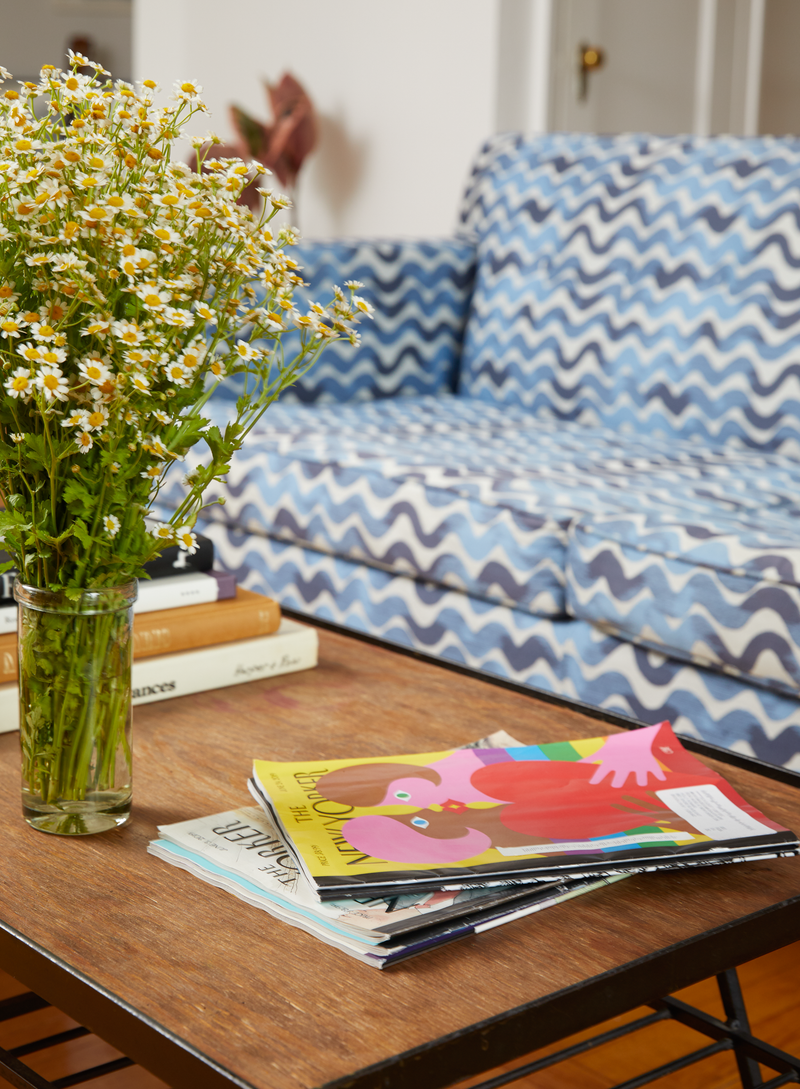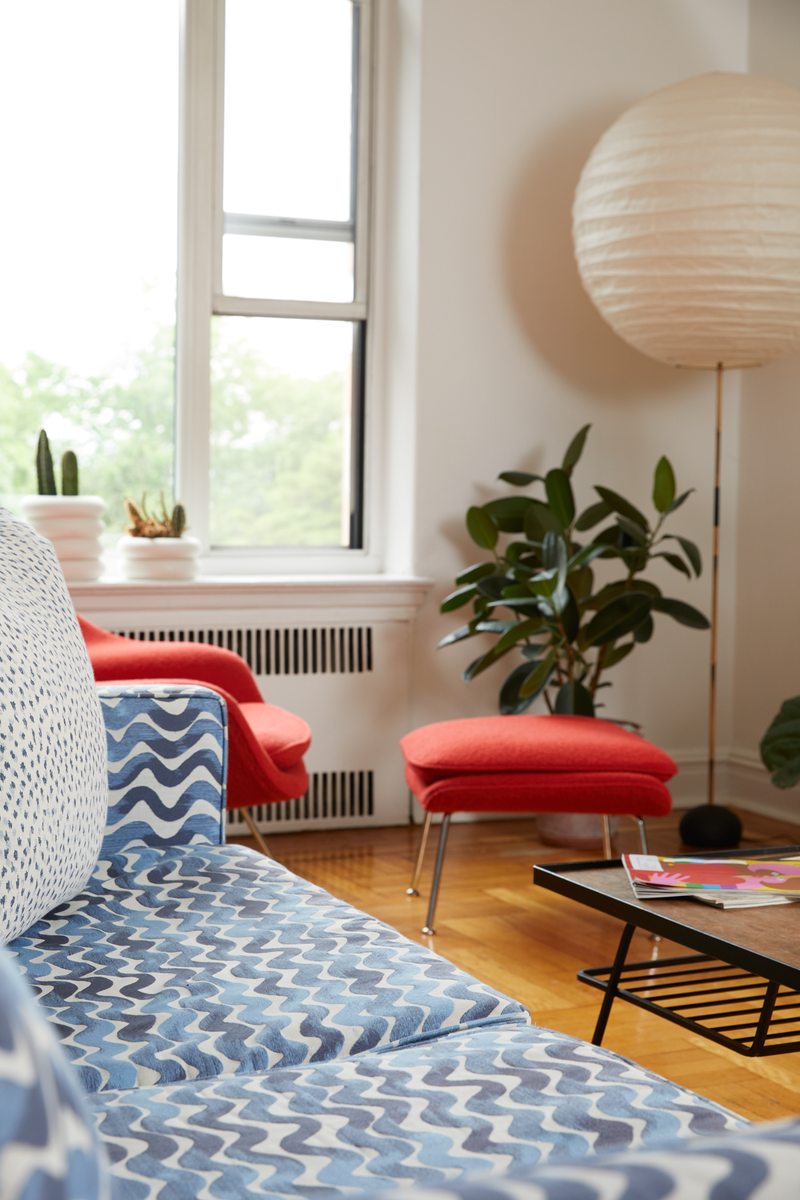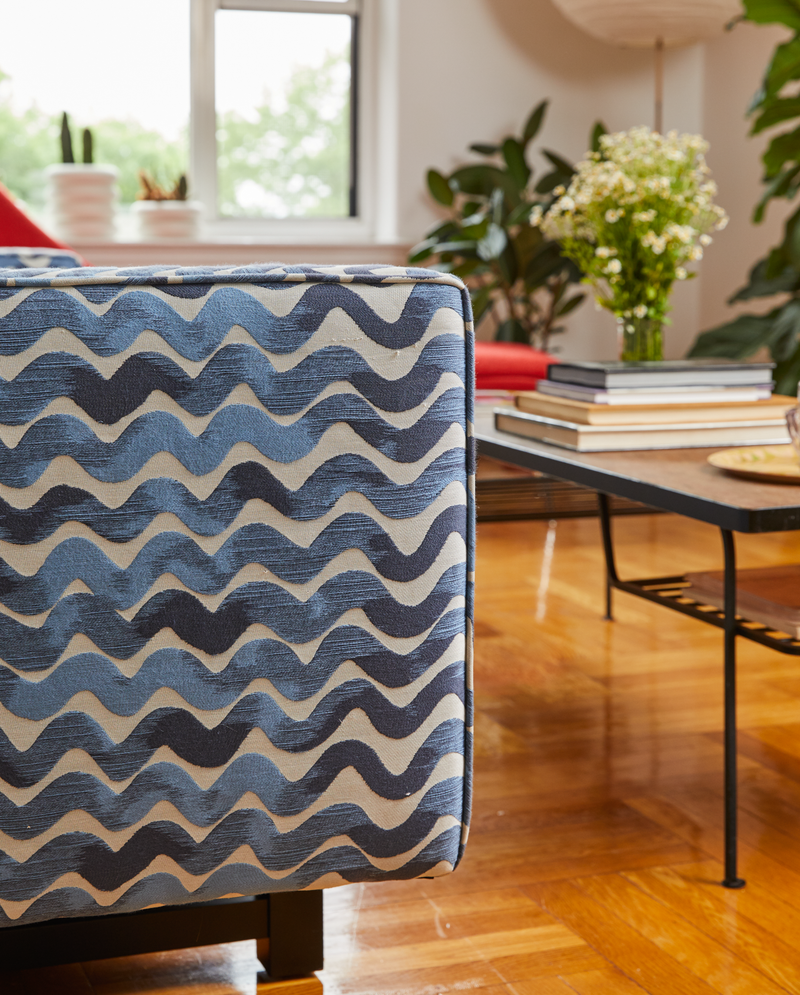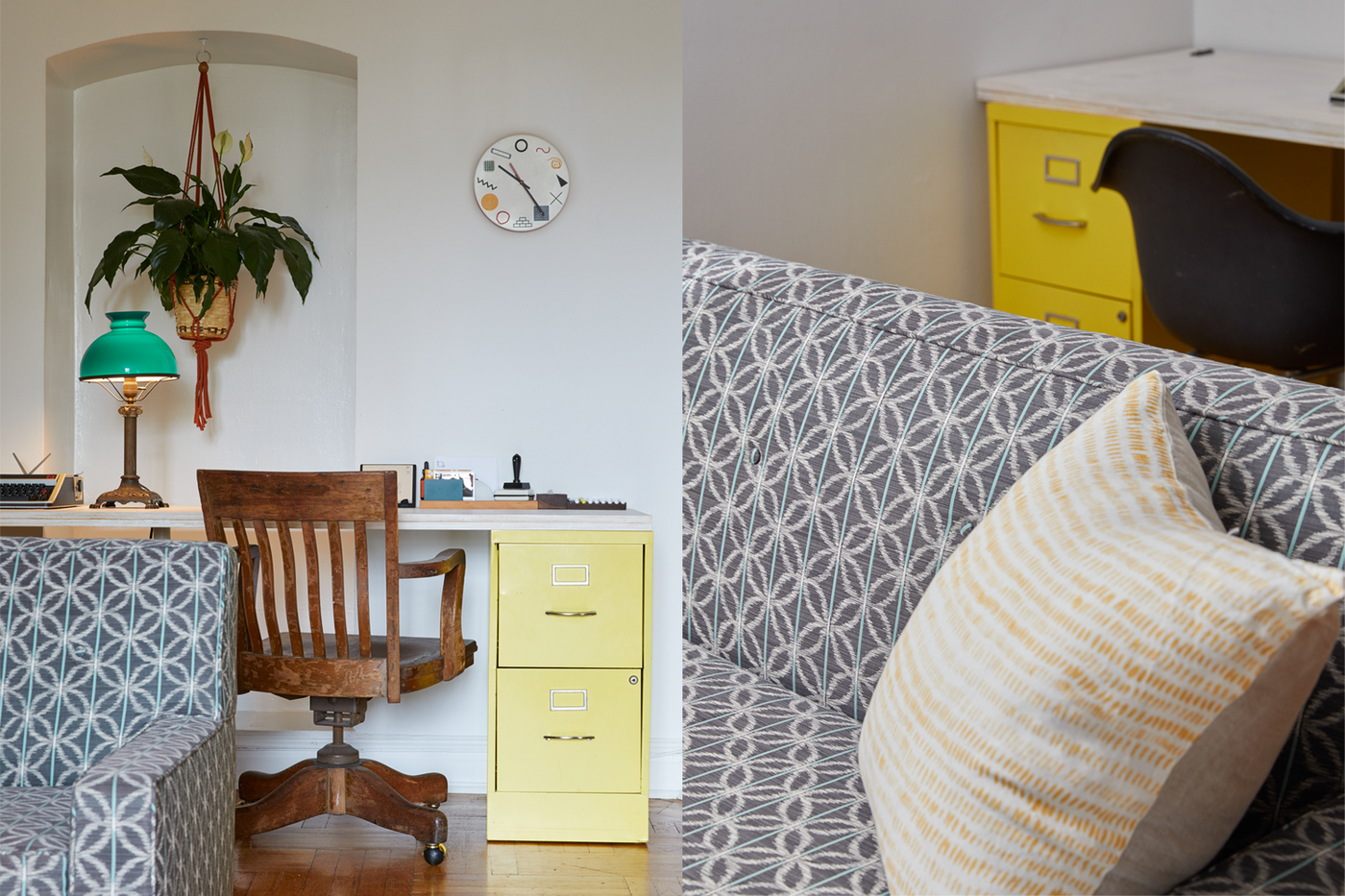 When you work out of your home, how do you make your home and office space work together?
I work out of Camp David when I'm doing client work, but when I'm doing big picture thinking or working on my book, I like to be in the privacy of my own home so I can move around a lot. I keep my desk tidy and put everything away at the end of the day.   It's nice that the small sofa works as a divider to the office. It's important to me to not let work take over my personal space so keeping things minimal helps.

I know you are a robust reader and I always love your recommendations. What are you currently reading?
Faith by Sharon Salzberg, Reboot by Jerry Colonna, Digital Minimalism by Cal Newport, The Second Mountain by David Brooks, On Earth We are Briefly Gorgeous by Ocean Vuong, Everything in Its Place by Oliver Sacks. I used to be a medical
researcher so I prefer to read different fields of study at once to keep my mind open. 
What do you wish all creative business owners knew?
Structure facilitates creative freedom.
Nobody needs your product.
Starting a business and growing a business are two separate skillsets.
What's the best piece of advice you've ever received?
Stay flexible. Those were the parting words from my favorite professor at Berklee. I took them to heart and they changed my life. I would never have imaged the career or life I have now had I not stayed flexible and adapted as I was met with adversity and change.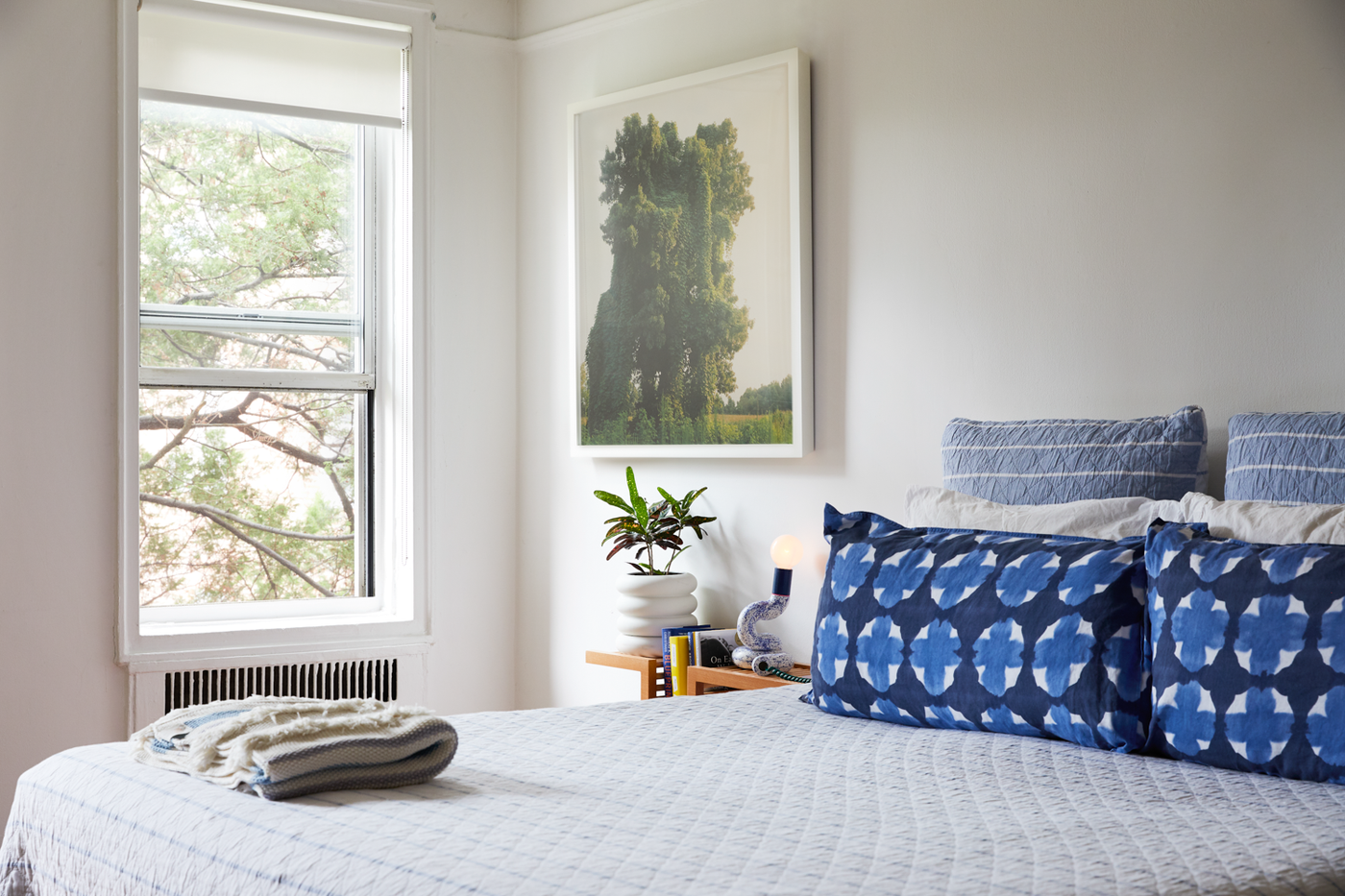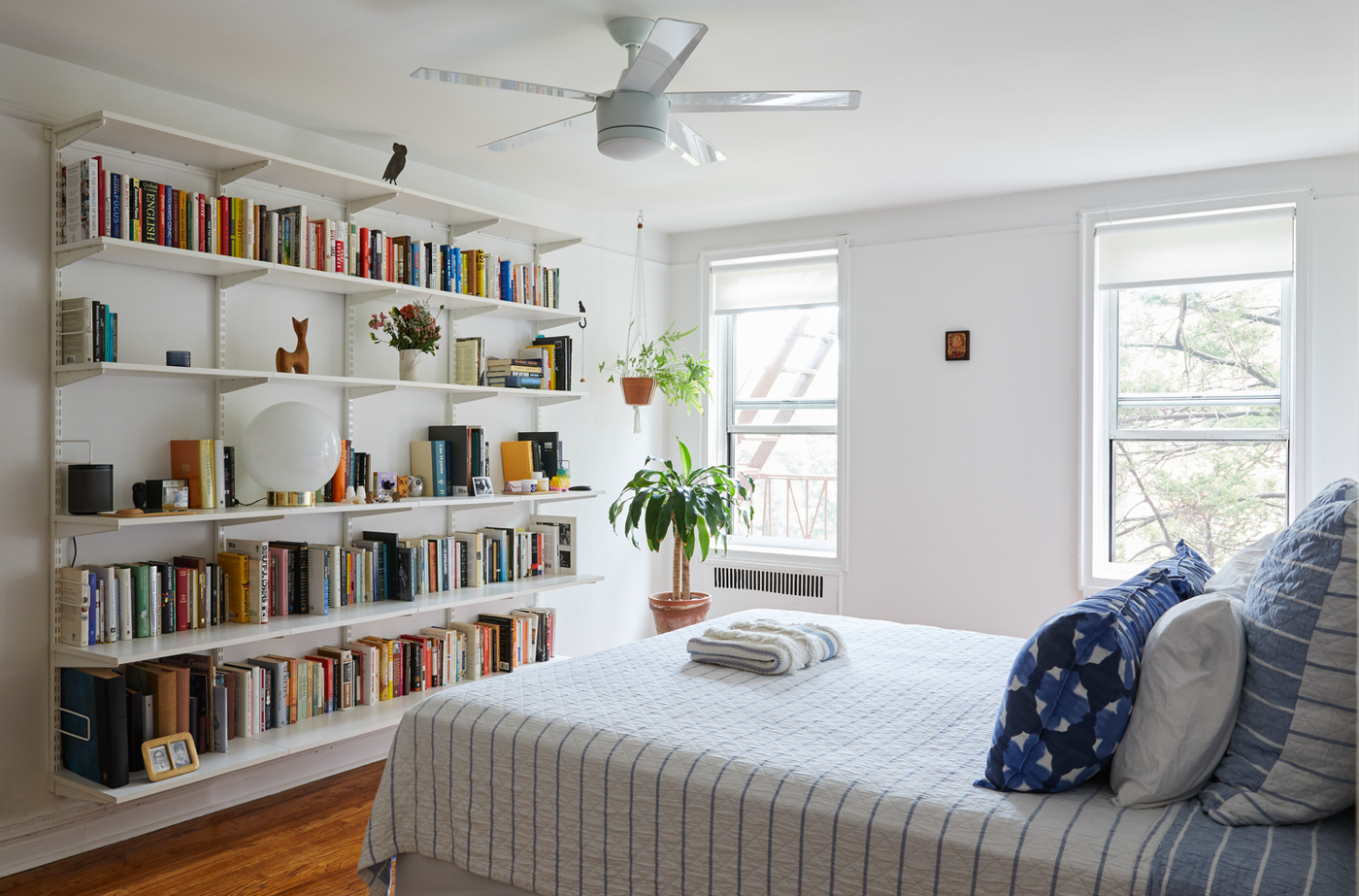 Why did you choose this bedding?
Your coverlet feels amazing. I love your shibori bedding, the blue was is so rich. We bought
the striped coverlet because it reminded me of a seaside cottage which is exactly how I wanted to feel in the bedroom. I sleep better in this bedding because it is so calming. I love the lightweight feel of the coverlet too. It's perfect for spring and summer.
Note: our bedding line has since been discontinued.